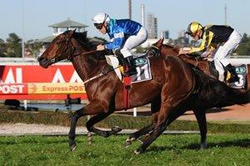 She is now flying again, and I'm certainly not underestimating the role the treatment has played when it seemed nothing else was working and the single treatment only cost $400 AUD, not thousands of dollars
Sydney, NSW (PRWEB) August 6, 2009
Nationally renowned trainer Tim Martin has credited a new product utilising stem cell technology as a key factor in one of the most satisfying wins of his career. His 7 year old mare Teasing stormed to victory from the back of the field in the $125,000, group 3 Missile Stakes (1100 metres) at Rosehill on August 2, and Martin believes the treatment will now be sought after by trainers around the country.
"Teasing has a lot of potential but we've never really seen the best of her due to a number of injury problems. She fractured a knee before she ever raced and it had been a struggle since," he said.
Martin said his contacts in the industry lead him to a new treatment using fractionated ovine placental extract, called StemVet Activation the treatment is specially formulated to improve and enhance the performance and repair of racing and competition animals by activating the dormant stem cells which are driven to the effected areas like the muscle and tissue damage at the cellular level. Some of the world's best known trainers have started using the treatment in their stables.
"She is now flying again, and I'm certainly not underestimating the role the treatment has played when it seemed nothing else was working and the single treatment only cost $400 AUD, not thousands of dollars," he explained.
Unique growth factors have been identified in the fractionated ovine placental extract used in the secret manufacturing of the product, which is used primarily as an anti-inflammatory with wound healing properties and regenerative effects. As its drug free and does not swab.
With the start of Breeding Season on August 1, Martin said he would also investigate another treatment formulated by the same Australian company, Medivet.
Each vial of Stemvet - Biological Breeding contains fractionated ovine placental protein extract to enhance the quality of embryonic development in mares as well as the huge benefit in stallions in respect to improved performance and fertility during the stud season. With superior development and growth at the cellular level, the chances of springing healthier and more superior offspring are increased remarkably, according to David Bellamy (genetic blood stock architect).
"The development and trial of StemVet, StemVet treatments has been thorough, which is why I was interested in the first place. I have seen the results with Teasing first hand, now I'm interested to go to the next development stages and see what advantages we can unearth on that level," Martin explained.
To find out more about the Stemvet treatments, visit http://www.medivet.net.au.
# # #