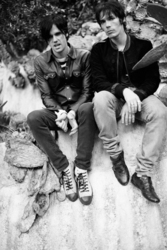 by Adamandevil you think Nine Inch Nails, meets David Bowie, meets Talking Heads. Very well produced song with a lot going on
Los Angeles, CA (PRWEB) August 11, 2009
The music industry is alive with praise for Danny Saber's latest project, the album Saber Bytes. And spurring on the buzz is the hit song "Outnumbered" by Adamandevil. "Outnumbered" is one of 12 tracks compiled by Saber for this album which showcases the best up and coming artists in alternative hybrid music.
Going out on their own after finding much success as members of the London band Whitey - Scott Fairbrother and Julian Shah-Tayler formed Adamandevil in their new home base of Hollywood, CA in July of 2007. They teamed up with Saber for "Outnumbered" who contributed extra guitars, production and mixing.
Industry websites are already celebrating the duo's work. "Outnumbered" was selected as Benny's Pick of the Month for Buzzbin Magazine.
"When you first hear "Outnumbered" by Adamandevil you think Nine Inch Nails, meets David Bowie, meets Talking Heads. Very well produced song with a lot going on," Benny writes. "On one hand it's almost a dance song and yet you can sit, smoke and listen to it over and over each time seeing it from a different angle, the angry, the desolate, the take charge parts, trying to prepare and protect."
Music blogger Mojophenia writes, "Scott Fairbrother and Julian Shah-Tayler have fresh ideas for their style of Alternative Electrolica, a deliberate attempt to raise Pop sentiments with spacious beats and self produced mixes. If the now Hollywood based duo`s first EP is anything to go by, the quality laden new album will almost certainly be something special."
And with the help of Danny Saber it's sure to be, as Adamandevil are currently mixing their self-produced debut album with Saber. One of their songs, "Weeds" has already been placed in the Indy film "2.22" whose cast includes Val Kilmer and Gabriel Byrne.
Meanwhile, Saber Bytes continues to tear up the charts - reaching an impressive #15 spot on the Top 200 CMJ Radio Charts following its May debut release. Saber Bytes was released by Pisces Pastorales and Danny Saber Records distributed by KES Music and Video Distribution. For more information please visit http://www.dannysabermusic.com.
###