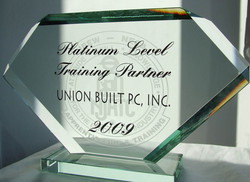 We've seen other training partners make it to the Platinum Level in previous years, and it's a goal we wanted to attain. The fact that we made it at the 20th annual NTI, hosted for the first time in Ann Arbor, Michigan, is just icing on the cake
Ann Arbor, MI (PRWEB) August 7, 2009
Union Built PC, Inc. is very proud to announce that we have reached Plantinum Training Partner Level with the National Joint Apprenticeship Training Committee for 2009. The award was presented by Michael Callanan, Executive Director of the NJATC at the 2009 NTI Trade Show, announcing, "Union Built PC has demonstrated its solid committment to our JATCs, the IBEW, and NECA contractors throughout the last year. Congratulations!"
"We've seen other training partners make it to the Platinum Level in previous years, and it's a goal we wanted to attain. The fact that we made it at the 20th annual NTI, hosted for the first time in Ann Arbor, Michigan, is just icing on the cake," said Brandon Weber, Managing Partner and Co-Owner of Union Built PC.
Thousands of JATC Training Directors and Instructors, IBEW officers, and NECA representatives were on hand the first weekend of August to see what all of the training partners have to offer the NJATC and apprentices nationwide. At the Platinum Partner Roundtable discussion Sunday afternoon, Michael gave each of the 10 companies achieving the Platinum Level a chance to discuss what their companies were about and how the partnership with the NJATC works for them.
Union Built PC assembles its computers in the United States under union contract. Its tech support is also union, in the United States and in Canada. But our difference is in our quality; our clients come back to us year after year because we provide superior quality and workmanship, and we're committed to providing Technology Equipped Classrooms and many other technical solutions for JATCs, IBEW local unions, and NECA contractors, as well as many other unions and the training centers affiliated with them.
###