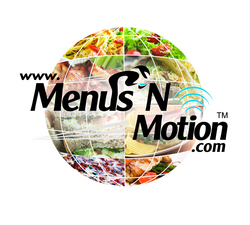 What makes Menus 'N Motion.com unique is that the service is a win for both the busy consumer who doesn't have time to cook a nourishing meal and restaurant owners who are looking to increase their 'take-out' business
New York (PRWEB) August 8, 2009
Consumers save time, money and the cost of fuel when they order "take-out" at Menus 'N Motion.com, a new Internet-based food delivery service that provides access to more than 100 restaurants -- serving over 80 different cuisines and specialty dishes in the New York and New Jersey markets.
Menus 'N Motion.com is a unique addition to the online food and beverage delivery community because of its consumer-focused concepts and business paradigm. At Menus 'N Motion.com individuals can manage their time and budget by having breakfast, lunch or dinner delivered to them at home or at work from their favorite restaurants.
"Menusnmotion.com is an innovative approach to meeting the needs of individuals who do not have the time needed to cook a meal or pick up 'take-out,'" explained a Delivery Sync Concepts, LLC executive -- parent company of Menus 'N Motion.com.
Menus 'N Motion.com accommodates a wide range of consumers including busy professionals, families and college students who live and eat at off-peak hours. The online food delivery service also serves as a means for restaurant owners and catering businesses to grow their customer base, improve order accuracy, and enhance business productivity.
"What makes Menus 'N Motion.com unique is that the service is a win for both the busy consumer who doesn't have time to cook a nourishing meal and restaurant owners who are looking to increase their 'take-out' business," stated a Delivery Sync executive.
Menus 'N Motion.com's special price comparison feature is an added bonus designed to help consumers make food and delivery choices according to their budget. For example: the consumer who wants to spend $20 or less, can simply select his or her craving from several different restaurants listed with Menus 'N Motion.com and then utilize the price comparison feature to compare prices before placing the order.
What consumers can expect from Menus 'N Motion.com: a four-step, user-friendly experience; convenience; restaurant ratings; price comparisons; more than 80 cuisines to choose from, and more!
What restaurant owners can expect if registered with Menus 'N Motion.com: access to a broader audience; increase in average takeout order size, innovative marketing; and much, much more!
Menus 'N Motion.com encourages eatery and restaurant owners to take advantage of what the site has to offer from a business perspective. There are three easy ways for merchants to become a registered member and participating restaurant of Menus 'N Momotion.com:
1. Visit http://www.menusnmotion.com and click on "Become a Participating Restaurant."
2. Complete a registration form and fax it to 1-877-80M-ENUS (806-3687).
3. Contact us at 1-877-80M-ENUS (806-3687).
Menus 'N Motion.com is an Internet and wireless-based "take-out" food delivery service owned and operated by Delivery Sync Concepts, a limited liability company. Menus 'N Motion.com has over 100 restaurant listings, serving more than 80 different cuisines. Internet and wireless users can log onto http://www.menusnmotion.com to order their favorite meals for delivery. Menus 'N Motion.com currently facilitates the order process of take-out food in New York and New Jersey and plans to expand into other major cities including Philadelphia, PA; Atlanta, GA; Charlotte, NC and Washington, DC -- and a host of other populous cities by early 2009.
# # #