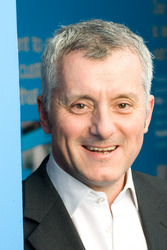 Manchester, UK (PRWeb UK) August 8, 2009
In what is a 'first' for a financial services organisation, The Co-operative Bank has decided to thank its customers for the recent Which? Award for being Best Financial Services Provider by singing them a 'thank you' song.
The song, named 'Thank You' was written by Richard Coulson especially for The Co-operative Bank and was sung by a group of 50 Co-operative Bank employees from Manchester, Skelmersdale and Stockport. The cheery song praises The Co-operative Bank's customers and thanks them for their constant support.
The singers recruited from all parts of the organisation include Guy Herrington (Director of Marketing), Ryan Williams (Communication Manager), Lynn Finney (Compliance), Rebecca Warner (Claims Advisor) and Christopher Billett (Customer Service).
Guy Herrington, Director of Marketing for The Co-operative Bank commented, "We were really impressed with the positive response from our colleagues. The atmosphere during filming was amazing and we hope our customers have as much fun watching the video as we did filming it.
"We are so proud that we have been recognised as the Best Financial Services Provider by Which? We decided that instead of sending a traditional 'thank you' note to every customer, we should do something a little bit more tongue-in-cheek and sing a song. We are not sure that we will be getting a call from Simon Cowell some day soon but as long as our customers are happy - that's the most important thing".
The new viral will be released on YouTube and The Co-operative Bank's Blog Good with Money blog.goodwithmoney.co.uk (07.08.09).
Ends
For further information contact:
Alejandra Solis / Catherine Laycock
The Co-operative Financial Services Press Office
Tel: 0161 903 3833 / 3808
Fax: 0161 903 2751
Twitter @ CFSpressteam
Notes to editors:
ISDN facilities are available for broadcast media interviews.
The award is based on research by Which? recognise the best performers across core retail sectors, including mortgages, credit cards and current accounts. In the case of The Co-operative Bank, and given the backdrop of the economic crisis, the award also recognises the trust associated with The Co-operative brand, its unique ethical policy and the prudent way in which it has managed its finances throughout the credit crunch.
More information on The Co-operative Bank can be found at http://www.co-operativebank.co.uk
The Co-operative Financial Services is part of The Co-operative Group, which is the world's largest consumer co-operative with over 3 million members. CFS currently has 5.5m customers and employs over 8,000 staff. It has 116 retail and corporate branches/centres and over 1,000 face to face financial advisers. It has £38bn of assets under management across its retail and corporate business areas.
###