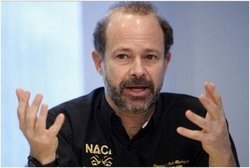 We are finding our Save the Dream events are not just for victims of predatory and subprime lending, but the crisis has grown so significantly that people who find themselves in an unaffordable mortgage from income and job loss are eligible for help, too
Atlanta, GA (PRWEB) August 6, 2009
The Neighborhood Assistance Corporation of America (NACA) is coming to Atlanta, Georgia, on August 7-11. NACA offers homeowners a way to avoid foreclosure, restructure home loans, and reduce mortgage rates. This extraordinary event, being held at Georgia World Congress Center at 285 International Blvd NW, Atlanta, GA, is free to participants.
"We are finding our Save the Dream events are not just for victims of predatory and subprime lending, but the crisis has grown so significantly that people who find themselves in an unaffordable mortgage from income and job loss are eligible for help, too," said NACA CEO Bruce Marks said. "We had 35,000 people at the event in Cleveland. Then last week we completed our Chicago event, which more than 50,000 people from throughout the Midwest attended. This week we had over 40,000 people in St. Louis."
Marks continued, "Normally our Save the Dream events are four days, but because of the extraordinary turnout in our last three cities, we are extending our Atlanta event to five days."
Anyone interested in attending should pre-register for an appointment, but you can also register when you arrive. You can register online at naca.com or by calling toll-free to (888) 499-6222.
The NACA homeownership program, which is without cost to those participating, is our answer to the huge subprime and predatory lending industry. NACA has conclusively shown that when working people get the benefit of a prime rate loan, they can resolve their financial problems, make their mortgage payments and become prime borrowers. NACA's track record of helping people who have credit problems become homeowners or restructuring a predatory loan debunks the myth that high rates and fees are necessary to compensate for their credit risk."
Started in 1988, NACA has led successful advocacy campaigns against predatory and discriminatory lenders as well as providing the best mortgage program in America with $10 billion in funding commitments. NACA is bringing its community organizing and unprecedented mortgage program to the diverse communities in Georgia to assist people in achieving the dream of homeownership.
NACA has the most effective long-term mortgage solution for at-risk homeowners because it permanently reduces the interest rate, often to 4%, 3% and 2%, and if necessary reduces the outstanding principal based on what the homeowner can afford. This enables working people in Atlanta, Georgia, to avoid foreclosure by helping them to restructure their home loans and reduce their mortgage rates.
NACA's solution has established the national standard for long-term solutions for thousands of owner-occupant homeowners. NACA can do this because it has secured legally binding agreements with most of the major lenders and servicers, which covers 90% of the at-risk homeowners.
All of NACA's services are free. Homeowners drive and fly from long distances to attend these extraordinary Save the Dream events. At the Columbia South Carolina event, people came from throughout the southeast and as far away as Los Angeles. NACA had over 500 staff and volunteers who put in long hours and lots of hard work to help so many homeowners save their dream.
Pre-register for an appointment, if you can, but you can also register at the event. You can register online at naca.com or by calling toll-free to (888) 499-6222.
About the Neighborhood Assistance Corporation of America (http://www.naca.com):
Founded in 1988, NACA is a national non-profit community advocacy and homeownership organization headquartered in Boston. Through its 38 offices nationwide and two call centers, NACA has set the national standard in restructuring thousands of mortgages to what homeowners can afford.
News of NACA's program and advocacy has been featured in national and local media. The Boston Globe chose Bruce Marks, founder and CEO of NACA, as its 2007 Bostonian of the Year. There is tremendous recognition for the effectiveness of NACA's advocacy and for providing real, affordable homeownership solutions for working people.
###