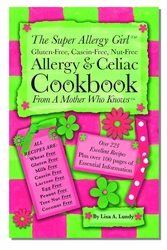 There are things that women can do to improve their chances for getting pregnant and carrying to term
Buffalo, New York (Vocus) August 10, 2009
About 10% of women, or about 6.1 million women between the ages of 15 and 44 in the United States, have difficulty getting pregnant or staying pregnant according to the Centers for Disease Control and Prevention (CDC). Between 10% and 15% of recognized pregnancies end in miscarriage reports the American College of Obstetricians and Gynecologists (ACOG) in an ACOG Practice Bulletin (#24) in 2001, which was reaffirmed in 2008. Undiagnosed celiac disease increases the risk of miscarriage by 800-900% according to a Celiac Sprue Association USA, Inc. Fact Sheet. Couples struggling with infertility can get help in the form of a new video and tip sheet offered by motivational speaker and author, Lisa A. Lundy, which you can download free from her website http://www.TheSuperAllergyCookbook.com/articles.html.
And just who is Lisa A. Lundy to be talking about infertility tips? In 1994 and 1995 Lundy had a fibroid tumor in her uterus that was over 19 centimeters in size, which equates to being about 8 times larger than the normal size of the uterus itself. In cases of fibroid tumors of this size, which is in the 95th percentile, a complete hysterectomy is the most likely outcome of a myomectomy, the surgery to remove the fibroid. Lundy sought out the skills of a highly trained surgeon, one who routinely did myomectomies of this size, and increased her chances of keeping her uterus. While Lundy missed having a hysterectomy by a hairline according to the surgeon, most of the tissue needed to support a pregnancy was removed during surgery, leaving her as a patient that was unlikely to be able to carry a baby to term. Lundy surprised the three physicians working with her, her OB-GYN, the neonatologist, and the surgeon who had removed the fibroid, by not only carrying her baby to term but also by growing back her uterine tissue to normal thickness - something that medical science can not explain.
Lundy is now the biological mother of three children, all born by planned C-section due to the nature of her extensive uterine history, ages 12, 10 and 7; she also is the mother to a daughter who died inutero at six months gestation. She has coached women in getting pregnant with great success in the last ten years. "There are things that women can do to improve their chances for getting pregnant and carrying to term," Lundy said. "One of the most important things is to have a top-notch physician who you can work with to rule out celiac disease and who will use other types of medical diagnostic testing available today." In the tip sheet Lundy references a Harvard doctor who created a relaxation program to help with infertility and who published a book titled "Healing Mind, Healthy Woman: Using the Mind-Body Connection to Manage Stress" by Alice D. Domar and Henry Dreher.
As the author of The Super Allergy Girl™ Allergy & Celiac Cookbook - From A Mother Who Knows, a gluten-free, dairy-free, egg-free, peanut-free and other allergen free cookbook, Lundy knows the importance of nutrition and diet when it comes to health and well being. She recommends that couples dealing with infertility issues work with a physician to look at nutritional levels, which are critical to good health, because it is widely understood by vitamin companies and physicians that most Americans are deficient in one or more nutrients. She has created a content-rich website with free white papers, tip sheets, videos and recipes all designed to empower consumers to have a great life regardless of their circumstances. Her book is available at http://www.TheSuperAllergyCookbook.com.
Contact: Ms. Lisa Lundy
Phone: (716) 835-6392
###