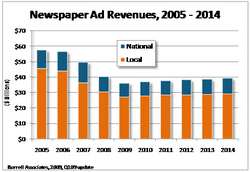 With news stories of newspaper bankruptcies, reduced distribution, and outright closures, it is easy to see why some observers think the newspaper is an endangered medium
Williamsburg, VA (PRWEB) August 7, 2009
While everyone's been writing the obituary for the newspaper industry, Borrell Associates is releasing advertising numbers today that show something entirely different.
In a memo written by Borrell Associates' president Colby Atwood, he notes that he is expecting U.S. newspapers to see a decline in 2009, then a mild rebound over the next five years. The latest Borrell projections call for a 2.4 percent increase in newspaper advertising in 2010, and low single-digit increases for several more years.
"With news stories of newspaper bankruptcies, reduced distribution, and outright closures, it is easy to see why some observers think the newspaper is an endangered medium," said Atwood. "But amateur pundits often make the error of forecasting with a ruler, extrapolating current trends straight into the ground."
The memo also describes five factors combining to give newspapers a new lease on life including the important opportunity side of the Internet.
A free download of the memo can be found at -- Memo. There is also a market-by-market estimate for newspaper spending in 2009 and 2014 for sale.
Read our blog and discuss more about this at - Borrell Associates.
About Borrell Associates
Borrell Associates is the leading provider of local advertising research, data and strategic analysis. The company has offices in Williamsburg, Va., and Seattle, Wash., and provides detailed market advertising reports for hundreds of local media companies, including Local Online Ad Spending, Local Ad $pending Report (LA$R®) and customized reports for any U.S., Canadian or U.K. market. For more information, visit Borrell Associates.
# # #