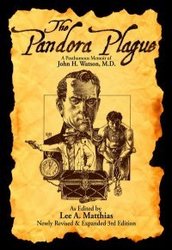 Matthias describes Houdini's feats of magic, both on and off stage, most skillfully.
Milwaukee, WI (PRWEB) August 8, 2009
With the new Sherlock Holmes movie starring Robert Downey Jr. and Jude Law, targeted for Christmas, 2009 release, interest is building for stories about the great detective. Author Lee Matthias has just released his terrific novel, "The Pandora Plague" (BookSurge), in a new and annotated edition, available now. This is one wild "roller-coaster-ride" of a tale:
The theft of an unusual pocket-watch brings famed magician, Harry Houdini, together with the world's foremost consulting detective, Sherlock Holmes. When it leads to the appearance of a mysterious locked strong-box, it becomes a case that rocks the British Empire to its core.
After the magician is blackmailed in order to best the box's lock, Holmes and his ally, Dr. John Watson, expose a plot against the crown, itself. Only Holmes's immense intellect, combined with the "Official" resources of his equally brilliant brother, Mycroft Holmes, can penetrate the mystery in time.
In the tradition of Nicholas Meyer's "The Seven-Per-Cent Solution," and "The West End Horror," author Lee A. Matthias recreates Sir Arthur Conan Doyle's magnificent style and characters in "The Pandora Plague", a rip-roaring adventure full of magic, mystery, and murder.
A period feast, filled with luminaries of the era, bursting with the raucous energy of a time when the world was throwing off the romanticism of the Victorian Age for the power and dangerous potential of science, new philosophies, and the machine.
Sherlock Holmes is at his peak. The brash, young Houdini challenges all who stand in his way. And Watson, Holmes's chronicler and friend, returns us to a time when the gas was always lit, the Persian slipper always filled with shag, and the game was, once, and at long last... afoot.
On sale now at Amazon.com.
About Lee A. Matthias:
Mr. Matthias is married and the father of two daughters. After graduating college with a degree in film, he worked as a Writers Guild Signatory Literary Agent for over twelve years selling books to publishers and scripts to producers. He has taught screenwriting at three different universities. "The Pandora Plague" is his first novel. Next he will be publishing a nonfiction book on writing and story-creation for popular movies, "Lateral Screenwriting: Using the Power of Lateral Thinking to Write the Great American Movie." And waiting in the wings is another Sherlock Holmes adventure.
Publication Data:
"The Pandora Plague: A Posthumous Memoir of John H. Watson, M.D."
http://www.pandoraplague.com
Author: Lee A. Matthias
ISBN: 1-4392-4313-1
ISBN-13: 978-1439243138
310 pgs / $16.99
BookSurge Publishing
"...builds considerable suspense..."
"a...pastiche...fun for both non-Sherlockian specialists and Holmesian devotees."
"Matthias describes Houdini's feats of magic, both on and off stage, most skillfully."
---"The Armchair Detective"
# # #