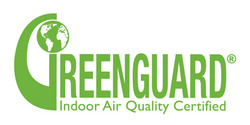 We are really proud to be able to offer materials that have received the GEI certification
Miramar, Florida (PRWEB) August 10, 2009
The GREENGUARD Environmental Institute (GEI), a non-profit organization established in 2001 to create industry-independent indoor air quality standards for building materials and products, has awarded Trend USA and its franchise division, Granite Transformations, its highest rating. Granite Transformations franchisees sell and install recycled glass, engineered granite and quartz countertops in as little as one day using a no demolition installation process.
An ANSI Standard Developer, GEI's mission is to improve public health and quality of life by creating a set of standards and testing that help improve indoor air. GEI has used this data to build a list of low-emitting materials that can be used to create a healthier indoor environment by minimizing dangerous chemical emissions.
"We are really proud to be able to offer materials that have received the GEI certification," said Carl Griffenkranz, Vice President of Marketing for Granite Transformations. "I think that many people would really be surprised to find out how the air in their homes can be polluted by emissions from many building products. We were so concerned that we commissioned our own laboratory testing, but the GEI Children and School standard goes far beyond any regular test."
Trend USA material underwent GEI supervised laboratory tests to ensure that it did not emit dangerous chemicals or particulates into the air. Trend USA and sister division, Granite Transformations, received the GEI's Children and Schools standard. This special rating was created because of the sensitivity of school children and the unique characteristics of school construction, and represents the stiffest product-testing criterion to date.
"It's important for everyone to become more aware of their environment, especially our homes where we spend so much of our time," added Griffenkranz. "Granite Transformations materials will bring many things into your home like beauty and durability, but one thing we never want to do is contribute to a home's indoor air pollution."
About the Company
With U.S. offices based in Miramar, Fla., Granite Transformations, a division of Trend USA, has facilities and showrooms around the world offering new and exciting alternatives to traditional countertops, backsplashes, floors and more. The first Granite Transformations franchise opened in 1996 in Perth, Australia. Consumer response to the revolutionary resurfacing process was overwhelming resulting in growth across Australia and New Zealand. With the first U.S. offices opening in 2001, Granite Transformations now has nearly 100 showrooms across North America with more showrooms opening every year. In 2004, the company began UK operations and is now also growing throughout Europe. In addition to easy installation and beautiful surfaces, the company also offers its customers the convenience of quality cabinet refacing.
# # #