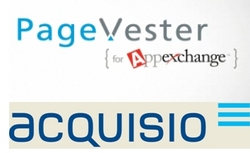 We're thrilled to announce the latest addition to our offering. This is an important milestone. Our customers will soon be able to gain control over the part of their marketing campaigns which has been in the hands of IT for so long, the infamous landing page
Montreal, QC (PRWEB) August 10, 2009
Acquisio inc., a leading provider of Paid Search Management Software, today announced it has entered into a definitive agreement to acquire all assets of privately held Emovendo, including its flagship product, landing page application PageVester. The terms of the deal were not disclosed.
"We're thrilled to announce the latest addition to our offering. This is an important milestone. Our customers will soon be able to gain control over the part of their marketing campaigns which has been in the hands of IT for so long, the infamous landing page," says Marc Poirier, Co-Founder of Acquisio.
"This technology allows marketers with absolutely no design or IT skills to assemble professional looking, dynamic landing pages, complete with forms, validation rules, and so much more. The application is also fully integrated with salesforce.com and can automatically feed it with every new captured lead," explains Martin Le Sauteur, CEO at Acquisio.
Marketers using the Acquisio SEARCH platform will now have complete control over the entire cycle of their clients' marketing campaigns. Alexandre Pelletier, founder and former CEO of Emovendo, says "Not only does PageVester allow users to rapidly build and deploy professional landing pages, it also supports the creation and management of A/B tests with Google Website Optimizer". A/B tests allow marketers to present alternating versions of the same page to its site visitors in order to determine which one provides the best ROI.
Marc Poirier adds "Tweaking ad copy and bids is essential stuff, but it will only take you so far. You need to work on post-click activity. This is where PageVester comes in. It delivers instant value to its users by simplifying landing page creation and A/B test implementation."
About Acquisio
Acquisio is the creator of Acquisio SEARCH, a Software-as-a-Service solution designed specifically for on-line advertising agencies managing pay-per-click campaigns on Google, Yahoo and BING. Acquisio's set of applications empowers campaign managers, allowing them to spend less time building and launching campaigns, and spend more time on strategy and intelligent campaign refinement.
Contact:
Marc Poirier, Chief Marketing Officer
Acquisio inc.
450.465.2631 x210
# # #