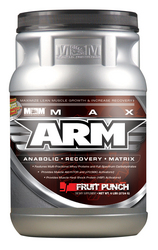 We set out to deliver a Complete Post-Exercise Muscle Hydration Recovery supplement from the ground up.
Los Angeles, CA (PRWEB) August 10, 2009
The science of muscle recovery shows that there are 3 critical requirements for optimal recovery and repair following an intense exercise session. First, is the replacement of fluids and electrolytes. Second, is the rapid replenishment of muscle glycogen, and third is the replacement of amino acids to support the muscle rebuilding process and minimize muscle protein breakdown.
"We set out to deliver a Complete Post-Exercise Muscle Hydration Recovery supplement from the ground up." said Max Muscle Sports Nutrition President Sean Greene. "MAX ARM, or Anabolic Recovery Matrix, exceeded our expectations as it was our customers who literally started writing us with their experiences with ARM."
Designed to follow rapid recovery and anabolic science, MAX ARM was created to be the ultimate post-workout formula. Sales of MAX ARM began to surpass Max De-Lite Weight Loss Punch which has exploded in popularity thanks to recent Max Muscle Sports Nutrition nationally broadcasted FDA Inspections that billboarded the company's best manufacturing practices and strict adherence to best product sourcing, high quality, and attention to detail.
"Because of that, we're launching a national awareness campaign on radio, internet, and at all 157 Max Muscle Sports Nutrition stores across the country that MAX ARM, when taken directly following your workout, provides the necessary nutrients to support maximum lean muscle mass activation, restore fluids and electrolytes, replenish glycogen and accelerate overall muscle recovery and repair," added Greene.
Packed with 28 grams of multifractional whey proteins per serving from WPI and WPC sources to ensure optimal nitrogen retention and lean muscle mass gain, Max Muscle Sports Nutrition spared no expense in constructing a very science-reliant product.
Dr. Phil Harvey, Chief Science Office at Max Muscle Sports Nutrition, brings this science to consumers through pure and simple logic.
"An exciting area in the molecular biochemistry of protein synthesis are the role of Heat Shock Proteins (HSP). HSP are molecular chaperones that aid in the transport of proteins throughout the cell's various compartments to support protein synthesis. HSP or chaperones also protect the newly synthesized proteins against denaturation. HSP stabilize proteins as a result of altered pH due to high intensity exercise, oxygen deprivation, and stress. Left uncorrected, mis-folded proteins form aggregates that may eventually kill muscle cell." stated Harvey matter of factly. "To support this important function of protein synthesis, Max ARM contains the Heat Shock Protein Activator Blend with glutamine peptides, bilberry, schisandra, rhodiola and paeonia. It's a complete product that's wonderfully and naturally advanced."
As 'natural' becomes the sought after, now Max Muscle stores across America are feeling the groundswell in demand as MAX ARM literally is an Anabolic Recovery Matrix and a very efficient complete package for those looking to maximize their fitness through proper nutrition and supplementation, naturally.
"Max ARM is the total package for complete recovery science providing the necessary ingredients for rapid and efficient recovery and muscle building." said Greene. "It's instantized and delivers an Intense Strawberry taste that refreshes and satisfies. Free Samples of Max ARM and an in-store redemption coupon on your first purchase are available nationwide at any Max Muscle store. Simply log on to http://www.maxmuscle.com and click on click on the "ARM Yourself" promotion.
"Hydration recovery at its finest…you won't need anything else!"
###