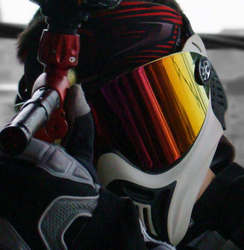 This year at D-Day in Oklahoma they raffled off a fully modified Tippmann A-5 and raised $1,150 for a Children's Hospital.
Kennewick, WA (PRWEB) August 9, 2009
Red Dot Paintball has been following this topic in the media and news for many months. Recently, Germany tried to place a ban on paintball completely. Often the media sensationalize the news about paintball guns. For example, Teens Vandalize a Car With a Paintball Gun. The analogy used is that surely the same level of scrutiny would occur if, Teens Vandalize a Car With a Golf Ball? Or, Teens Vandalize a Car With Toilet Paper? Unfortunately, they are treated differently and this is the point of our article.
It seems that because the sport of paintball uses the term paintball gun, which by the way is not a real gun. The term paintball gun and paintball marker can be used interchangeably. Also, paintballs are not really filled with paint. It is a fluid that marks the players with a washable solution that is environmentally friendly and washes off with water. So getting back to the point, the paintball gun term is an easy hit for media to grab headlines. Unfortunately, this publicity has made it difficult for growth in this sport. Some communities quickly move to ban paintball guns when there is a report of an incident involving the shooting of a paintball gun(marker) and vandalism.
It is interesting to note that when a teenager breaks a window of a car by hitting a golf ball out of a public school field on to the street, that headlines are not made and no one talks about banning golf? Why is it that paintball is sensationalized and communities are making it difficult to encourage the sport or build new fields? No one questions building a new golf course? It certainly does seem like more education for the public is necessary to break a stereotype that paintball is bad.
Red Dot Paintball has created a new website for the social networking and profiling of paintball players and teams. For years players have been communicating together on forums. Recently, paintball groups have formed on Myspace and Facebook. The new site PaintballGuns.ME, will bring together elements of both of these popular social networks in one site. The "Mespace" site is packed with features. Here members can also directly host videos without needing a Youtube account. Just like on Youtube, the site gives members the ability to host videos for embedding on other websites.
Paintball players and teams from near and afar communicate, post pictures, listen to music, participate in forums, chat, instant message, create and promote upcoming paintball events. The PaintballGuns.ME site also hosts hundreds of free games. Creating a group on the site allows teams to easily organize and communicate with all group members. Many teams have now started to use the site as their team website. With a built in team forum and event planner, scheduling games and practices is quick and easy. Profiles show off personality beyond traditional forums.
Paintball players create their profiles for the world to see. Paintball interests are promoted by members and these same members are working diligently to promote the sport and the good that paintball players do. One example is a paintball team from Denver, Colorado. 5150 Tactical Paintball is a sponsored team by Red Dot Paintball. Red Dot Paintball invites everyone to look at their profile and determine if paintball is bad for our communities? Over the past year, 5150 Tactical Paintball has been raising awareness through charity work. As printed in a recent article from The Catshack Reports, "This year at D-Day in Oklahoma they raffled off a fully modified Tippmann A-5 and raised $1,150 for a Children's Hospital." "With no donation help, members reached into their own pockets to purchase all of the modifications and the marker itself. Their reasoning for doing this was to show appreciation for the work the Children's Hospital did for a fellow baller, Zach (age 9)who had open heart surgery at the facility. Three months later he was at D-Day slinging paint with the best of them.
This team does not stop there with their volunteer work. In the works for more civic minded activities is a blood drive for Children's Hospital, and Adopt a Highway program and work for the Boys and Girls Club."
Red Dot Paintball invites you to join our community of paintball players, teams, industry leaders and become members in our new Social Networking site PaintballGuns.ME and show the world what paintball and the players are all about. Take a friend or a neighbor paintballing. Community leaders in churches and schools are a great way to introduce new people to the sport while at the same time promoting the positive aspects of paintball.
Paintball teaches sportsmanship, organization and physical activity. Teenagers need every opportunity to be off the streets and involved in a sport that transfers skills to future jobs. Life skills training also comes from many that have served the military and they willingly transfer that knowledge to players while playing a recreational game. Please don't let the media or a bad apple in the community promote banning of paintball. Rather, get involved and keep our sport growing!
# # #