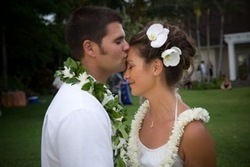 Designer of the Year 2005-2006.
Wailea, Maui, HI (PRWEB) August 10, 2009
Weddings... Photography... Sunsets... Rainbows... Romance... Your mind automatically thinks Maui. There is no more amazing wedding destination on this planet. Unsurprisingly the best of the best wedding consultants, photographers, jewelers, and florists have gravitated to this island paradise. And TNT's new reality show "Wedding Day" captured all that makes Maui such a special place for weddings with their August 8, 2009 episode, Tyra and Rich.
Of course, part of capturing any Maui wedding is the potential for remarkable photography that will fill the wedding albums after the event. The producers of Wedding Day chose Photos on Maui, well known celebrity wedding photographers, for this very special wedding.
No one would call it hyperbole to suggest that the most important pictures in the family collection come from the wedding day. While Tyra describes herself as a tomboy, and her chosen profession as a firefighter in the Imperial Beach, California fired department certainly fits her self description, she makes it clear that she embraces her feminine side. She looked forward to all the pampering that goes with the wedding day. It would fall to wedding photographer Bill Stockwell of Photos on Maui to catch Tyra in all her feminine glory on her most memorable day.
The name Bill Stockwell is synonymous with journalistic wedding photography. When Bill Jr. was getting his picture taking on ponies, his Dad was creating a new style of wedding photography that would capture the special moments in each unique wedding, not just the formal shots of family and friends. Now the son has taken this idea to striking new levels with candid shots before and after the ceremony on the beaches of Maui with glorious waves, sunsets, and bougainvilla as the backdrop. Wedding consultants and planners from White Orchid Weddings selected the Romantic Haiku Sugar Mill Ruins for the rehearsal party and Michael Moore's private oceanfront home in Olowalu, Maui for the wedding. These locations would provide Stockwell with plenty of context for the over 1000 photographs he would take.
A favorite shot for any wedding photographer is the ring. As hard as the hand is to draw, it is also a challenge to photograph. Every bride wants her hand to appear graceful and well manicured. Then there is the ring itself. The gold surfaces and the diamonds and other gemstones each represent opportunities for greatness in photography, but traps as well. Lighting may be the key ingredient in any photo, but a wedding ring is going to both capture light and create its own light. Selected to create a custom wedding rings for Rich was local artisan G.K. Mukai @ Precision Goldsmiths. Gary K. Mukai was a fantastic choice as the creator of a ring for this event. His signature "Maui Wave" design ring captures the essence of the Island Paradise experience, and provides a unique and elegant wedding ring that will bring compliments for years into the future.
Gary K. Mukai is Maui born and bred. His jewelry has won many prestigious awards including the recent Hawaii Jewelers Association's "Designer of the Year 2005-2006." He is one of the last of the Maui jewelers to have a storefront studio where the custom work is actually produced. His wife Kathi explains: "We offer a variety of designs that we can replicate, but since they are hand made, each one is distinctive and a bit different. But Gary also creates one of a kind rings, pendants, earrings, or bracelets if the customer chooses. We have many brides who have a diamond which they bring to us, and we create the ring to compliment the stone, or, of course, we can provide diamonds from our inventory of any size, shape and color."
Pulling the entire event together was Maui dynamo Carolee Higashino of White Orchid Weddings: "We had two weeks to create the entire event. Our entire crew worked tirelessly to make this the wedding of all time. Our first task was to find trusted vendors and suppliers for all of the venues, materials, entertainment, and memory creators. Every bride who has put together a big wedding production knows that one error on the part of one supplier can make for a lot of needless stress. As wedding consultants and planners here on Maui, we knew exactly which vendors could be trusted to flawlessly execute their part of the production."
To make matters more interesting for Carolee and her staff at White Orchid Weddings, they were not dealing with the bride on all these issues, but with the television crew of Mark Burnett/Dreamworks Productions that needed perfection in every element of the wedding, and they needed it yesterday. And the two things that will last the longest and be used the most years after the wedding are the ring and the photography. Clearly, the choice of Photos on Maui and G.K Makai Studios for those two elements of the 'Wedding Day' event were among our most important decisions, and the results can be seen at http://wedding-day-on-tnt.blogspot.com/.
# # #