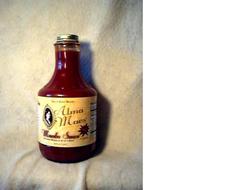 Bring the King to Your Next Fling
Lanham, MD (PRWEB) August 10, 2009
It seems in today's new world a political hot bed of politicians shouting change, that change is not always good. Change can take you from bad to worse. No, my friends what America needs and longs for is a simpler time, a slower time of family and friends gathered around the picnics, cookouts, and barbecues of this great nation. The old saying "momma knows best" rings true today in Alma Mae's Mambo Sauce. Yes, a real piece of Americana dating back to1837. Johanna Jean's recipe of all natural no preservatives and no Trans fats. Mambo Sauce is some old time'y southern barbecue. Produced by Sauce King Brand inc, available at http://www.saucekingbrand.com and participating grocers near you.
Sauce King Brand inc, is a Midwest based company. Producers of barbecue sauces, pasta sauce, and condiments. Sauce King Brand is Currently featuring this culinary gem entitled Alma Mae's Mambo Sauce, that was discovered purely by accident. A Sauce King Brand administrator was sorting through heirlooms of a dearly departed cataloging items for the estate, when he came across a box with old scrolls of parchment. The paper, dry and cracked, was barely legible. After many hours of careful preparation Sauce King Brand was able to piece together what appeared to be a recipe of sorts. After trial and error,due to the fact that there was no precise measurement as it read "a pinch" of this and "a dash" of that. Sauce King Brand was able to recreate this wonderful Mambo Sauce used for barbecue. The recipe was embodied in the form of a letter addressed to Miss Alma Mae. As folk lore would have it, Alma Mae along with her sister Emily grew up in the Deep South and was raised by the family nurse or Nanny Johanna Jean. The letter dated July 1837, does not reveal an exact location as the name Alma Mae was very popular in this time period. Sauce King Brand is conducting ongoing research to nail down the location.
Surprisingly in this day and age of chemicals, stabilizers, and food science, Alma Mae's all natural no preservatives no Trans fats recipe fared extremely well in FDA lab results. The actual nutritional lab test is posted in this news release, showing no saturated fats or Trans fats. Now for experienced griller's and the novice a little BBQ history is in order. The term barbecue (pronounced Barb E. Cue) derived from the French meaning from tail to snout or visa versa, is an actual pig roast. As in the day of the Mexican Share croppers and ranch hands got the toughest cuts of meat and learned to marinade them to tenderize. The Chinese invented stir fry as little fuel was available and cooking a meal in a short time was essential. So goes it with the early barbecue r's slow roasting their meats for long periods of time mixing concoctions of tomato and vinegar to baste their beef, pork, or foul to enhance taste and texture. As early German immigrants migrated to the Americas and landed on the shores of the Carolinas they brought with them mustard rubs. Many early American sauces were developed to hide the flavor of poor quality meat. Today's barbecue sauces are a cornucopia of history with tomato, vinegar, and mustard seed mixture's all carefully measured to give each brand their unique characteristics.
Sauce King Brand's Mambo Sauce is sure to please without overpowering like some other brands. No, Alma Mae's Sweet N Tangy is just rite. Not only will you taste a delicious sauce but the flavor of the meat as
well. Many have complimented in company testimonials that it has not caused them heartburn. This is due to the lack of artificial chemicals (refer to FDA lab results). The President and CEO of Sauce King Brand
reports the story of a young polish lady and friend named Kasia who suffers from food allergies. She is able to eat Mambo Sauce without upsetting her system. In fact she uses it on everything including a plain sandwich. Although allergens are listed on the nutritional panel of the label, they are in such small amounts we encourage people like Kasia to try Mambo Sauce. Don't deny yourself some old timey southern barbecue. Whether you are grilling on a gas grill, charcoal grill, open pit, or tailgating, mambo sauce is lip smacking.
Now for the fun part, Sauce King Brand is launching their "Bring the King to Your Next Fling" campaign. Purchase a bottle of Alma Mae's Mambo Sauce and send in your best barbecue, cookout, tailgate,
party, or special event picture with Alma's in hand. Sauce King Brand will post the submissions and hold a vote with the best picture winning a new stainless steel gas grill. Contest guidelines will be posted on Sauce King Brand's web site http://www.saucekingbrand.com.
###