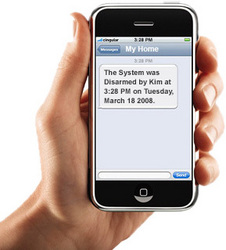 Salt Lake City, UT (PRWEB) August 10, 2009
Cybermarketing LLC is pleased to present the release of it's new website, http://www.homewirelessalarm.com. As a preferred partner of Frontpoint security, homewirelessalarm.com provides the most simple, easy to use, and affordable home alarm system in the industry.
Homewirelessalarm.com offers the first 100% do it yourself "DIY" wireless home alarms. This means customers don't have to deal with pushy door to door salesman wanting to come into their homes, pressuring them into buying a new wireless alarm security system. At homewirelessalarm.com, top-of-the-line wireless burglar alarms products are available at the best prices on the market, and the wireless alarm systems are shipped right to customers' doors without ever having to deal with a salesman in person.
Some of the highlights on these new do it yourself wireless home alarm systems are:

Wireless home alarms starting at $99.95.
Monthly wireless alarm monitoring as low as $32.99/mo.
15-day 100% risk free trial & free shipping
Easy, Do It Yourself (DIY) home alarm system installation - Buy today, install tomorrow.
Flexible home alarm system contracts - choose from 1, 2 or 3 year
contracts.

No in-home sales visits and no door to door wireless alarm salesmen
100% wireless home alarm system with secure digital cellular link at no additional cost.

Comes standard with wireless alarm remote access and alerts.
Lowest wireless alarm prices available
No hidden fees, No hassle billing - No extra charge for burglar, fire, or environmental monitoring, no extra charge for cellular backup. No activation fee.
Free video monitoring with wireless home alarm systems.
Access wireless home alarm functions on iPhones, PDA's, and Cell Phone's
Wireless alarm systems are not all created equal. It's not a surprise that most do it yourself home wireless alarm companies charge extra for monitoring various devices. Home wireless alarm.com is dedicated to keep things simple and does not have any hidden fees like some companies do. The latest technology and high quality equipment is available to keep families and homes safe. Internet shoppers shop around, but always come back because they find that with no hidden fees, homewirelessalarm.com is straight forward and honest.
Wireless alarms also work excellent for businesses just like they do for homes. Business alarms provide business owners with a peace of mind, knowing that their business is always being watched, even when they're not around. Home wireless alarm.com offers great wireless alarm system options for businesses.
Finally, there are a lot of factors that go into determining which wireless home alarm system is the most idea system. Common features that are decision makers include price, contract length, remote access on your iphone, etc. Home wireless alarm.com has included all of these factors in an easy to read matrix for home wireless alarm systems, to help them see the advantage of FrontPoint security systems.
Visit homewirelessalarm.com for more information about do it yourself security systems, or call them toll free 888-268-6273 for a free quote today.
###