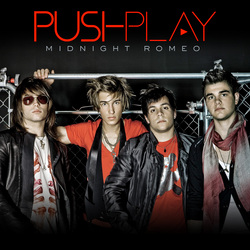 Los Angeles (PRWEB) August 10, 2009
The highly anticipated world premiere of Push Play's new single, Midnight Romeo will have its world premiere on Yahoo! Music this Tuesday, August 11, 2009. Midnight Romeo is the fist single off Push Play's new album, Found which will be released on Tuesday, September 29, 2009. The Midnight Romeo music video also features actress Emily Osment. Push Play is signed with Wind-Up Records.
For more information on Push Play please go to http://www.myspace.com/pushplayrox or http://www.winduprecords.com.
Please contact:
Tas Steiner @ tas (at) tspr-la (dot) com or Lauren Sheftell @ lauren (at) tspr-la (dot) com
###