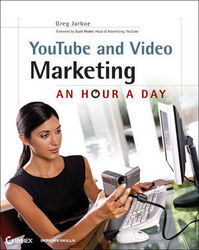 San Jose, CA (PRWEB) August 10, 2009
Greg Jarboe, the author of YouTube and Video Marketing: An Hour a Day, will hold a book signing event at Search Engine Strategies (SES) San Jose. Jarboe will sign copies of his complete, task-based guide to developing, implementing, and tracking a video marketing strategy following his solo presentation entitled, How to Optimize for Search & Engage the Community, which will be held on Tuesday, August 11, 2009, from 10:30 to 11:30 a.m.
Published by Wiley, YouTube and Video Marketing: An Hour a Day is now for sale on Amazon.com. This 504-page guide provides extensive coverage of keyword strategies and video optimization, distribution and promotion strategies to other sites and blogs, YouTube advertising opportunities, and crucial metrics and analysis. For more information about the paperback book or to read excerpts of Chapters 1 and 11, go to http://www.wiley.com/go/youtubehouraday.
Among the people providing advance praise for Jarboe's new book is Amanda Watlington, Ph.D., APR, Owner of Searching for Profit. Watlington says, "This is a must-read book for any marketer considering adding video to their company's online marketing initiatives. Jarboe has written an easy-to-read book that fuses valuable tactical best-practice information for YouTube marketing with how to strategically and successfully integrate YouTube into the corporate marketing plan."
At SES San Jose, Jarboe will also be moderating the session entitled, Turn Brain Science into Bucks: Incorporating Persuasive Messaging into Your Content Strategy, which will be held on Tuesday, August 11, from 1:45 to 2:45 p.m. On Tuesday, August 11, Jarboe will also be speaking at the session entitled, What Works: Best Practices / Case Studies for Online Video, which will be held from 3:00 to 4:00 p.m. as well as moderating A Chat with Michael Fischer from 4:30 to 5:30 p.m. at the Social Media & Video Strategies Forum.
Jarboe will also be speaking at the News Search SEO session on Thursday, August 13, from 12:45 to 2:00 p.m. He will also be teaching the YouTube and Video Marketing Workshop on Friday, August 14, from 8:00 a.m. to noon.
About Greg Jarboe
Jarboe is the president and co-founder of SEO-PR, a search engine optimization firm, public relations agency, and video production company. Founded in 2003, SEO-PR has won a Golden Ruler Award from the Institute for Public Relations and PR News, and was a finalist for SES Awards in three categories: best social media marketing campaign, best B2B search marketing campaign, and best integration of search with other media.
Jarboe is a frequent speaker at Search Engine Strategies and is the news search, blog search, and PR correspondent for the search engine marketing news blog at Search Engine Watch. He is a member of the Market Motive faculty and a principal in the ChannelOne Marketing Group.
###