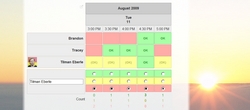 Many users like to personalize their web experience
Zurich, Switzerland (PRWEB) August 11, 2009
Doodle, the popular Web 2.0 online scheduling tool, has launched today Premium Doodle, a personalized version of the tool which allows fans to create their own custom look and feel and take advantage of richer features.
Available for a fee of just $28 annually, Premium Doodle expands the company's paid-for offerings for its repeat users; the free version of the tool is still available for any Web user at http://www.doodle.com.
"Many users like to personalize their web experience," said Michael Näf, founder and CEO of Doodle. "Fans of Doodle want to get their own, ads-free look and feel when scheduling. We're providing an innovative Web tool that's fun to use, makes scheduling a breeze, and now enables people to express their individuality--all at a very low cost."
Premium Doodle takes less than a minute to set up online. Its template includes headers, footers, backgrounds and avatars that can be customized; any part of the design can be changed as often as the user desires. Premium Doodle customers can also request personal information from their event participants, such as postal address, e-mail address, and phone number.
The full list of current Doodle offerings and their associated features is below:

Doodle - Free service available at http://www.doodle.com to schedule personal and business meetings. It takes just seconds to create a meeting request and no sign-on is required. The service is ads-supported.
MyDoodle - Also a free service, a simple sign-on process enables more frequent Doodlers to be remembered by the free Web tool and provides a personal dashboard displaying their recent and current meeting requests. MyDoodle also syncs with electronic calendars.
Premium Doodle - Allows individuals to customize their Doodle pages. Users can create their own backgrounds, upload photographs, graphics or avatars, benefit from their personal dashboard, and enjoy an ads-free experience. It also allows Doodlers to request contact information from their invitees.
Branded Doodle http://www.doodle.com/about/BrandedDoodle.html- Allows businesses to set up a Doodle that is branded with the company logo and name and offers security features such as SSL encryption and access control. A co-branded (free) and a fully-branded version are available.
All of the above services are based on a flat rate, i.e. they do not limit the number of meeting requests that can be created or the number of users that can participate. They all incorporate the reservation feature, time-zone support, the optional Microsoft Outlook plugin, and Mobile Doodle.
Näf continued, "For six years, we have been providing Doodle for free to anyone on the Web and have built a loyal following of three million users. We've been offering Branded Doodle to companies since early this year. None of this has changed. But it was time to give a richer experience to frequent Doodlers--hence Premium Doodle. With this step, we are entering the expanding market of freemium Web 2.0 services and directly appealing to the needs of our regular users and specific target groups."
About Doodle
Doodle provides solutions that take the pain out of finding the right date and time for a group of people to meet and makes scheduling virtually effortless. The basic service on http://www.doodle.com is the world's leading online scheduling tool with a rapidly growing user base of more than three million unique visitors per month. With a few clicks, Doodle allows users to establish a "poll" - a tabular display of possible available time slots - invite participants and enable them to vote transparently and democratically for their preferred meeting times and activities. This service is free, does not require any registration or downloads. Premium Doodle is Doodle's customized service for individuals and Branded Doodle is the online scheduling enterprise solution.
###