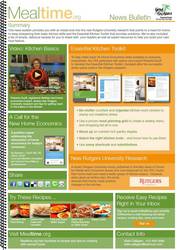 Pittsburgh, PA (PRWEB) August 11, 2009 -
Multimedia Release: Multimedia Content Attached. To view the full multimedia news release, please visit http://www.mealtime.org/athomeeconomics/.
With the current economic downturn leading leading to a collective return to home cooking, the time is right for Americans to revive what they may (or may not!) have learned in high school Home Economics class. The Canned Food Alliance (CFA) is calling for a new focus on kitchen basics that moms can start applying today in their own kitchens: At-Home Economics.
A recent Rutgers University study published in the May issue of Forum for Family and Consumer Issues and commissioned by the CFA found that moms want, and need a better grasp of kitchen basics. When given an action plan for healthy meal prep, grocery shopping, kitchen organization and food storage practices, the study showed that moms made positive changes towards providing nourishing, great-tasting family meals.
To help make these proven action plans and basic, At-Home Economics skills available to everyone, everywhere, the CFA partnered with Roberta L. Duyff, MS, RD, FADA, a home economics expert and dietitian who is also certified in Family and Consumer Sciences, to develop the Essential Kitchen Toolkit, modeled after the successful action plans used in the Rutgers research. By implementing these At-Home Economics fundamentals, moms will find it easier to deliver healthful and affordable meals for their families.
Duyff also authored "Home Economics to Family and Consumer Sciences: Reinvented for Today's Consumer," a position paper endorsed by the American Association of Family and Consumer Sciences designed to serve as a resource and perspective on the return of At-Home Economics.
About the Canned Food Alliance
The Canned Food Alliance is a partnership of the American Iron and Steel Institute's Steel Packaging Council, the Can Manufacturers Institute, select food processors and affiliate members. The primary mission of the CFA is to drive increased consumption of canned foods by enhancing the perception of their numerous benefits. For hundreds of mealtime solutions, visit http://www.mealtime.org.
###