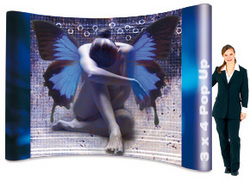 The current economic climate has adversely impacted the promotional budgets of many businesses
Croydon, Surrey (PRWeb UK) August 11, 2009
Discount Displays, the leading UK supplier of portable trade show exhibition stands and graphics, has introduced a new marketing solution to help budget-challenged exhibitors: fully customisable portable presentation systems for hire.
Discount Displays offers exhibitors a comprehensive choice for portable presentation systems, including panel systems, folding kits, pop-up displays, banner stands, furniture and a complete range of accessories, including lighting, literature racks and more. Exhibitors can rent all the equipment they need for any length of time since pricing is per day. Discount Displays provides quick on-site delivery and also offers professional exhibition installation and knock-down services.
In addition, Discount Displays offers free layout design services by its experienced in-house CAD team, and will customize each exhibit with high quality exhibition graphics printed in-house.
"The current economic climate has adversely impacted the promotional budgets of many businesses," said Sue Hines, Discount Displays marketing director. "Our exhibition stand hire program gives companies the opportunity to attend exhibitions and promote their products and services at a lower cost."
Discount Displays offers next-day delivery throughout the UK for most of their exhibition stands, banner stands, pop-up displays, folding displays, retail displays, vinyl banners, exhibition panels and other exhibition materials. The company prints all graphics in-house for quality and delivery control. For more information, visit http://www.discountdisplays.co.uk.
###