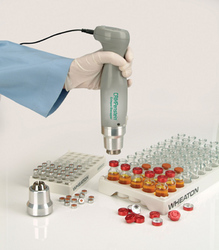 The CRIMPenstein™ is easy to use and enables handheld, semi-automatic operation for extended periods increasing productivity and minimizing fatigue
Gardena, CA (PRWEB) August 11, 2009
Spectrum Chemicals & Laboratory Products (Spectrum) announced the distribution launch of a new electric crimper and decapper that will increase productivity and lessen injuries due to repetitive hand crimping. The Wheaton CRIMPenstein™ has an advanced ergonomic design and is engineered to improve throughput in laboratories performing chromatography, analytical testing, lyophilization, vaccine development and other applications where vials are capped with aluminum seals.
"The CRIMPenstein™ is easy to use and enables handheld, semi-automatic operation for extended periods increasing productivity and minimizing fatigue", says Ruben Lopez, Supplies & Equipment Manager at Spectrum. Quick change jaws are available in common sizes and allow for flexibility in applications that utilize different aluminum seals. A sturdy stand is available which will hold the CRIMPenstein™ in a fixed vertical position for operations where vials need to be handled one at a time.
CRIMPenstein™ is a trademark of Wheaton Industries Inc.
About Spectrum Chemicals & Laboratory Products
Founded in 1971, Spectrum Chemicals & Laboratory Products manufactures and distributes fine chemicals and laboratory products with quality and delivery you can count on every time. Our chemical offerings consist of over 15,000 active pharmaceutical ingredients (API's), excipients, biochemicals, nutraceuticals, cosmetic ingredients, analytical reagents, and chemical solutions in research and production quantities. Spectrum also distributes nearly 80,000 supply and equipment items from over 200 manufacturers like Mettler-Toledo, Ohaus, Corning, Denver Instrument, Hirschmann, Jencons, Microflex, Dyn-A-Med, Thermo Scientific, Wheaton, Kimble Chase, Health Engineering Systems, SPEX CertiPrep, and LabChem. Spectrum's ISO 9001 certified facilities are FDA registered and operate under current Good Manufacturing Practices (cGMP). To learn more about Spectrum visit http://www.SpectrumChemical.com.
###