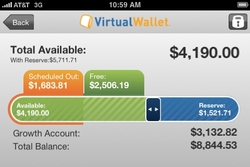 With the Virtual Wallet App we are continuing to enhance the Virtual Wallet experience for a customer segment that wants to do almost everything on a mobile device.
Pittsburgh, PA (PRWEB) August 11, 2009
PNC Bank, a member of The PNC Financial Services, Group, Inc. (NYSE: PNC) has introduced a new mobile App for the iPhoneTM and iPod touch® that provides Virtual WalletSM customers a high-def view of their money while on the go. PNC has combined the functionality of Virtual Wallet with the interactivity of the iPhone and iPod touch to provide customers a mobile offering with nearly all of the capabilities found online. PNC Bank introduced its existing iPhone App earlier this year for all customers and is now one of the first banks to launch an App specifically designed around a banking product.
"When we introduced Virtual Wallet last summer we made a commitment to make banking easy and fun for Gen Y and other tech-savvy consumers who prefer to bank online," said Thomas S. Kunz, director of payments and e-business for PNC. "With the Virtual Wallet App we are continuing to enhance the Virtual Wallet experience for a customer segment that wants to do almost everything on a mobile device."
Virtual Wallet, featuring three accounts combined in one, is a simple and visual online banking tool built with and for Generation Y to help them manage day-to-day expenses, plan and save. The features and functionality match the money mindset and financial lifestyle of this tech-savvy generation of consumers.
Virtual Wallet App Features
The Virtual Wallet App for iPhone and iPod touch is offered to all PNC Virtual Wallet customers. The PNC Virtual Wallet App for iPhone and iPod touch may be downloaded on the App StoreSM or on iTunes®. Key features include:

Weekly View: Get an at-a-glance summary of your overall financial situation for the upcoming week; see balances with the Money Bar and also the last five transactions.
Calendar: Toggle between day and month views; see overview of upcoming deposits (green dots) and withdrawals, payments or other expenses (orange dots), and Danger Day alerts (red bars); select a transaction to view details.
Tap to Transfer: Simply tap and drag the interactive slider on the Money Bar to transfer money between accounts; use the roller to fine tune the transfer amount.
Shake the Pig: Shake or tap the pig to easily transfer money into the Growth account.
Locate PNC: Search for a PNC ATM or branch near your current position using built-in location services; get directions, addresses, phone numbers, hours and a list of available branch services.
Customize: Drag frequently-used icons to the menu bar to customize the App.
Security: Be confident that personal and financial information is protected with PNC's Security Assurance while using the Virtual Wallet App
Virtual Wallet can be opened online at http://www.pncvirtualwallet.com, over the phone or in any PNC branch.
A Virtual Wallet App demo and other Virtual Wallet videos are available on PNC's YouTube channel at http://www.youtube.com/virtualwalletbypnc. Go to http://www.twitter.com/pncvwallet for product and feature updates and announcements.
The PNC Financial Services Group, Inc. (http://www.pnc.com) is one of the nation's largest diversified financial services organizations providing retail and business banking; residential mortgage banking; specialized services for corporations and government entities, including corporate banking, real estate finance and asset-based lending; wealth management; asset management and global fund services.
###