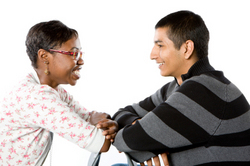 Orchard Park, NY (PRWEB) August 12, 2009
What's the coolest way to communicate? According to a new "Eye on Cool" survey* conducted on behalf of ROHTO eye drops, it's a near tie between "in-person" communications and social networking sites.
The survey reveals that 24% of U.S. adults age 18-34 indicated that they consider face-to-face meetings the coolest form of communication, while 23% think the coolest way to communicate is via online social networks. Among those selecting a specific social networking Web site, the choice is Facebook, with 74% choosing it as their favorite, trumping Twitter at 15% and MySpace at 11%.
Once go-to methods of communication, email and instant messaging are officially "out" while cell phone text messaging is "in." The survey revealed that texting is the coolest among 22% while only 3% of respondents indicated that e-mail is the coolest form of communication and 3% indicated that IM is the coolest. The good old-fashioned phone call is best for 8% of those surveyed.
To help you feel your eyes feel their coolest, ROHTO eye drops are available in four formulations - new Hydra, Cool, Ice and Arctic - and retail between $6.99-$8.99 at most drug, mass and grocery outlets nationwide, as well as online at drugstore.com.
For more information, visit http://www.cool4eyes.com or http://www.facebook.com/rohtoeyedrops.
*Methodology
Harris Interactive® fielded the study on behalf of ROHTO® eye drops from July 15-17, 2009 via its QuickQuerySM online omnibus service, interviewing 602 U.S. adults aged 18-34 years old. No estimates of theoretical sampling error can be calculated; a full methodology is available.
###