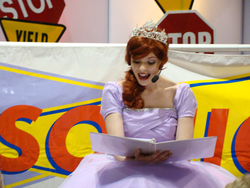 Princess Amerah and the Magic Dress
South Jordan, UT (Vocus) August 11, 2009
Princess Amerah the "All-American Princess" shows her true regal character by donating her time
To be a role model any child could admire, Princess Amerah demonstrates her grace and admirable character by donating her time to various charities and fundraisers. In fact, the princess actress sets aside dates each month to be a part of two free charity events and two free parties (for less fortunate families). The compassion the princess entertainer shows is well known throughout the Wasatch Front Area in Utah, making her a positive role model for all children who witness her generosity.
Princess Amerah's Book Will Hit the Shelves March of 2010
What do chocolate covered knights, a child- sized buffalo wing, and a sand-castle the size of a sports arena all have in common? They are all the makings of Princess Amerah's new book! The children's book "Princess Amerah and the Magic Dress" is truly one-of-a kind, as it features dozens of real people set in real life locations, with the main character being of course, Princess Amerah. Most children's book characters never fully come alive to the young reader, but with "Princess Amerah and the Magic Dress," and the use of real photography, children will be able to meet Princess Amerah not only in person as a storyteller at your local library, school, or book store, but also within the pages of a princess book fit for any young dreamer. To order an advanced copy, visit: PrincessAmerah.com
Princess Amerah's Pre-Book Tour Begins December of 2009
Justine Green plays Princess Amerah on a near daily basis, and is planning a nationwide book tour with her husband Andrew Green, the author of the book. For the past several months they have been planning and creating an original presentation to share their story with tens of thousands of children across the United States. You may be thrilled to see her dancing and twirling with your little boy or girl; or a personal favorite for most parents, watching your child actually remember the table manners and personal etiquette she teaches. Be sure to request her at your local library, bookstore, or elementary school.
An Everyday Woman Fulfills Childhood Dream of Being a Princess
Justine Green is the co-author and plays the main character of the book "Princess Amerah and the Magic Dress". Justine loves doing what she does best; what is that, you might be asking? Being a princess of course! Ever since she was a young girl she dreamed of being a Princess; as she grew up many told her it was time to let go of that dream, time to grow up and a get a …what? You guessed it, a JOB. Well, there was way too much magic in Justine's heart to settle for something other than her dream of being a princess. She has always desired to encourage young girls and boys to live a life of magic, a life you can be passionate about.
In fact, maybe that is what has fueled her success. Since the creation of Princess Amerah, Justine in character has been involved with, and has entertained thousands of Prince and Princesses, of all ages. She has been involved with news stations, radio stations, expos, including the Scrapbook USA Expo, Utah Safe Kids Fair, Hogle Zoo, and has been hired to perform at over 100 parties and libraries. In addition she creates family friendly YouTube videos that children love.
For more information, visit PrincessAmerah.com
ChicExecs PR is an "out of the box" PR company which represents over 70 clients. ChicExecs has created an innovative approach to PR dedicated to helping small-medium business receive media coverage. Our revolutionary automated system is changing the face of PR. To learn more about chicexecs visit ChicExecs.com.
###