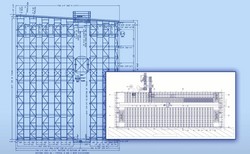 For AS/RS to operate as designed, the rack must be built to FEM specification, which not all vendors meet
Torrance, CA (PRWEB) August 11, 2009
In warehouse and manufacturing facilities in industries ranging from frozen foods and beverages to medical supplies and retail, Automated Storage and Retrieval Systems (AS/RS) are known for their ability to efficiently store and retrieve product by computer control, increasing efficiency and minimizing labor. What's critical but less well known, is that even the most sophisticated AS/RS -- which may operate 24/7, in total darkness, without the need for heat or AC -- are only as good as their pallet rack systems allow.
"For AS/RS to operate as designed, the rack must be built to FEM specification, which not all vendors meet," says Skip Eastman, Vice President of Sales at Steel King, a leading manufacturer of pallet rack and custom storage rack solutions. "The rack tolerances must be exact for the AS/RS's computer-controlled storage and retrieval system to work properly. If the tolerances are significantly off, loads could be deposited into a beam, upright, or the wrong storage location. The rack must also be strong enough to support stored pallet loads or mini-loads up to 40 feet high or more."
Larger unit-load AS/RS are usually designed to handle pallet loads of 1,000 pounds or more, while smaller mini-load AS/RS typically handle product loads of less than 1,000 pounds in totes, trays or cartons. Rack tolerances for mini-load AS/RS can be especially demanding, since the storage locations are smaller, and the loading device may still travel at high speed.
Building code issues, including fire, seismic, and municipal, must also be addressed ahead of time to avoid unwelcome surprises that can delay project completion.
For AS/RS storage applications involving heavy loads, increased vertical heights, and seismic requirements, Eastman recommends structural tubular pallet rack, which combines the load capacity of structural channel racks with the torsional strength of tubular steel. Unlike conventional [storage racks which offer load capacity in the 30,000 lbs. range, for instance, the SK4000 Structural Tubular Pallet Rack, with bolted beam connections, has the frame strength to support loads over 70,000 lbs.
To ensure everything goes according to plan, says Eastman, it's a good idea to purchase rack from a supplier that complies with essential safety and structural standards set forth by industry associations such as the Rack Manufacturer's Institute (RMI), the Storage Equipment Manufacturers Association (SMA), and the Material Handling Industry of America (MHIA), of which Steel King is a member.
"Because AS/RS projects are complex and delays costly, it's also important to partner with a rack supplier who can deliver all storage rack components on time, ready for installation," says Eastman.
To prevent problems and expedite solutions when they occur, Eastman suggests that AS/RS storage rack purchasers ask whether in-house CAD draftsman and professional engineers are on staff at the rack supplier. Also helpful in resolving design or installation issues quickly is an ability for a rack supplier to quickly call together a troubleshooting team from all involved departments including engineering, manufacturing, and purchasing.
For facilities requiring maximum AS/RS sanitation, such as the food and medical supply industries, using pallet rack with a limited connection hole option can be helpful. A galvanized finish can also help meet USDA requirements.
For more info, contact Donald Heemstra at Steel King, 2700 Chamber St., Stevens Point, WI 54481; call 800-826-0203; email: dheemstra(at)steelking.com or visit the website http://www.steelking.com.
###