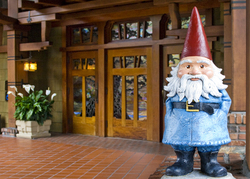 We love to pamper our special guests, and a Roaming Gnome is indeed special.
San Diego, CA (PRWEB) August 10, 2009
After announcing on Facebook that he was on the sunny West Coast to do "a little California dreamin'" from San Diego, the famous Travelocity Roaming Gnome checked into The Lodge at Torrey Pines® for a fun-filled weekend.
The Lodge's costal convenient location adjacent to The Torrey Pines Golf Course and overlooking the Pacific Ocean, provided the gnome the perfect home base for San Diego's most popular activities this weekend. The Roaming Gnome and his handlers visited SeaWorld on Friday, where he dove with SeaWorld staff and posed with Shamu. On Saturday, the Roaming Gnome made friends with an elephant at the world-famous San Diego Zoo and had time to skateboard in Balboa Park. Sunday he headed to the Del Mar Race Track.
"Our important guest chose San Diego for a visit during his 'Summer of Possibilities' trip because his fans on Facebook and Twitter cast 45,000 votes to bring him here," said General Manager Dan Fullen. "We here at The Lodge were proud to provide five-diamond accommodations for his stay so he could be minutes from San Diego's best attractions."
San Diego and Mission Beach beat out Venice Beach and Miami's South Beach for the honor of his visit, and Fullen said the staff worked hard to make the gnome feel welcome. He had a chance to catch the ocean views from the lobby and received a VIP tour of The Spa at Torrey Pines® as well as A. R. Valentien, The Lodge's award-winning restaurant.
"Rumor has it the Roaming Gnome snuck off to The Grill for everyone's favorite Drugstore Style Hamburger, and I think he fit in a quick Torrey Pines Cobble Stone massage at The Spa," Fullen said.
San Diego was the last of six destinations on the tour, which also included Chicago, Las Vegas, Grand Canyon, Philadelphia and Hawaii. Fullen said The Lodge was ready to welcome him back anytime. "We love to pamper our special guests, and a Roaming Gnome is indeed special."
The Lodge at Torrey Pines® is a tribute to the California Craftsman Movement and is modeled after Greene and Greene's famed Gamble and Blacker houses in Pasadena, California, two of the finest examples of early 1900s Craftsman-style architecture. The Lodge features 170 spacious guest rooms, including 8 suites, more than 13,000 square feet of meeting and banquet space, a 9,500 square-foot full-service spa and two restaurants serving contemporary California cuisine. The Lodge is adjacent to the Torrey Pines Golf Course and is within walking distance of Torrey Pines State Reserve.
The Lodge at Torrey Pines® is owned and operated by Evans Hotels, San Diego. For reservations call 888-826-0224 or for further information, visit http://www.lodgetorreypines.com.
###