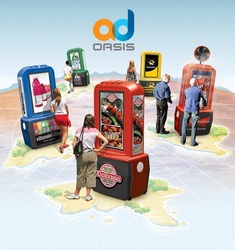 The AdOasis takes your message to a whole new level
St. Louis, MO (PRWEB) August 11, 2009
XG-ad has expanded their downtown office to include Foot Traffic Media. Together, they plan to take advertising to the next level. Their initial joint venture is to launch AdOasis (AO), a new concept in advertising.
This multi-sensory kiosk is a revolutionary approach to out-of-home marketing. The AO utilizes what Foot Traffic Media calls 6D advertising, which blends consumers' senses of sight, sound, scent, taste, touch and thought to get them engaged in new experiential ways.
The AdOasis is designed to engage all the senses, putting an advertiser's message front and center. It refreshes consumers with a cooling mist or warming heat. It has state-of-the-art, eye-catching graphics; all the while relaxing and engaging customers with pleasant fragrances and digital audio.
"The AdOasis takes your message to a whole new level," says Kevin Sprouse, CEO, Foot Traffic Media Group. "The market is inundated with ads. We researched what creates memories and quickly learned it's through our multiple senses. We then designed our company around just that...the human senses. We appeal to the senses and spur an emotional and memorable response. Customers are blown away with this approach to advertising so it's not forgotten."
The goal behind AO is to set your product apart by appealing to the senses and spurring a positive and emotional response. Customers will be blown away with this approach to advertising.
"Although we designed the AO for events such as music, sports, racing venues and other outdoor venues like zoos and amusement parks," adds A.J. Foppe, President/Founder AdOasis. "We found that clients are interested in many other applications. Kiosks can be used indoors too, such as casinos, airports, hospitals and banks. Essentially, wherever anyone would want to strategically place a kiosk to give directions or just spread their message in a memorable way such as adding a custom scent to the air."
The applications to use AdOasis are endless.
"We are excited to bring Foot Traffic Media under our roof," says Kevin Pyles, Principal/CEO at XG-ad. "XG-ad has established an industry-leading reputation of taking brands to a higher level. Together with Foot Traffic Media we envision making AdOasis the newest media to advertise and stimulate audiences around the world."
With Foot Traffic Media's technology and XG-ad's experience specializing in bold, get-to-the-point advertising, AdOasis will leave customers feeling like they are on an island of your creation.
###