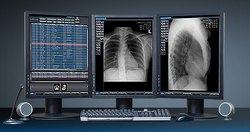 Torrance, CA (PRWEB) August 11, 2009
iCRco releases the latest version of its affordable and fully scalable PACS solution, Clarity PACS. Recently with the explosion of Digital Radiographic technology and the growth of Computed Radiography for medical imaging there has been an increased need for a cost effective and an easy to use PACS solution, which is why iCRco has developed Clarity PACS.
Because of the complexity and expense of other PACS solutions healthcare professionals have been experiencing what we call a medical digital divide in the Digital Radiology world. Expense of traditional PACS is the reason why big hospitals and imaging centers have been able to implement this technology while others have been left out. With Clarity PACS, iCRco is closing this medical digital divide and making this revolutionary product available and accessible to all healthcare providers.
"We are very excited to release the new version of Clarity PACS. At iCRco we are always trying to be edgy with our campaigns but right now we are doing something that has never been done before in this industry. We are allowing you to come to our website and see and touch our software right over the internet. We feel so confident about this product that we want everyone to be able to experience it for themselves. "states, Mark Valentine, President and COO of iCRco.
Clarity PACS was designed to support all imaging modalities and includes a powerful web-viewer. What sets apart Clarity Viewer is the user friendly and sleek graphical user interface, report writing, very powerful CD burn and DICOM Print options, advanced image manipulation tools, support for cross sectional imaging and HL7 Integration with third party information management systems like RIS and EMR. Clarity is fully HIPPA compliant and provides complete audit logs. The system can also integrate seamlessly with all third party medical imaging devices.
Clarity PACS presents a new paradigm with easy deployment, remote monitoring and updating capabilities that makes this solution second to none. The software uses a new approach to web based applications, allowing the user to connect to a web server through a standard web browser such as Internet Explorer. For the release of the software iCRco is allowing all medical professionals to access the live software and experience it for themselves. For that all you have to do is just visit http://www.claritypacs.com and click on the offer link.
About iCRco:
iCRco, Inc., based in Torrance, CA, is an established, privately-held, global leader in providing innovative digital x-ray imaging solutions, including a complete suite of x-ray imaging hardware, PACS, imaging software and integrated solutions for the medical, chiropractic, podiatric, dental, veterinary and non-destructive testing industries. Founded in 1990 by Stephen Neushul, iCRco has introduced several innovative technologies with their direct digital radiography, computed radiography, film digitizer and PACS product lines. In 2002 iCRco introduced the first computed radiography machine to have True Flat Scan Path™ technology. This technology ensures phosphor plates never leaves the cassette and produces life time artifact free digital x-ray images. These revolutionary products enable iCRco customers to experience the true low cost of ownership of digital x-ray imaging.
iCRco Military Division is a separate facility with the purpose of supplying and servicing military and governmental business. iCRco was awarded the US Military contract for portable CR systems in 2008 and has been fulfilling VertX orders monthly.
To learn more about Clarity PACS please visit http://www.claritypacs.com or http://www.claritypacs.com/offer
Contact:
Seyhan Gulen
Marketing Manager
sgulen at icrcompany dot com
###