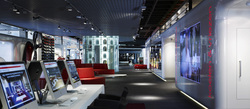 Creating the fittest cross-media experience through experience.
Vianen, Netherlands (PRWEB) August 11, 2009
Scala, the leading provider of end-to-end connected signage software, today announces that its certified partners, Troades and House of Media Experience have created a sophisticated multichannel, multisensory customer experience for Miele's first Inspirience Centre in the Netherlands. Combining the latest audio, visual, aroma and interactive techniques, the center provides a fully immersive brand experience for Miele customers and its business partners.
"Miele" literally means durability, reliability, security and peace of mind. Founded in 1899, Miele's aim has been to manufacture the highest-quality domestic appliances and commercial equipment in the world.
Miele usually demonstrates its products in Galleries, exclusive showrooms within retail stores which present a selected range of Miele products and provide an opportunity to inform and educate visitors by emphasizing the attributes and values of the brand in one branded space. As Miele's products are used for a wide variety of household tasks such as washing, chilling, warming, baking, cooking and freezing, the customer selection process of identifying the appropriate product for the appropriate need is experiential.
Miele's Inspirience Centre in Vianen is the first to integrate a range of media channels to create a multisensory environment for visitors.
"We wanted the visitor to have a 360-degree experience. Digital signage is not only about sound and vision, but is enhanced by adding other human sense triggers. Their recollection of their experience and of Miele will be individual to them and as long as the experience was meaningful, helpful, timely and relevant. I'm convinced that this will build brand loyalty and that over time, that recollection and loyalty will be evidenced through referrals and purchases," said Luc Heijnen, Concept Design, Multisensory Experience at Troades.
Miele recognized some time ago that in a typical reseller's store, their products were often not demonstrated to their fullest potential, and customers were not able to place the products into the appropriate domestic context. It also quickly became clear that traditional marketing channels would not deliver the brand experience Miele required with customers and dealers. The goal was to implement a two-way communication channel and create an experiential retail proposition.
Miele chose House of Media Experience and Troades, two leading cross-media and multisensory experience design agencies, to assist in the concept design, implementation and management of this center. Scala was chosen as the core operating platform to manage and control the digital network as well as sound, vision, light scenes and scent throughout the center.
At over 3000 square meters (32,000 square feet), Miele's Inspirience Centre contains a complete range of custom furniture, lighting, brand-enhancing visuals, signposting, information channels, sounds and scents all collaborating in a centrally managed way to provide visitors with a seamless total sense experience. There are over 100 screens of different formats and aspects providing over 40 channels of customized Miele content at full HD quality. This runs either dynamically (i.e., triggered automatically based upon predefined rules) or is controlled by customer interaction.
The customer experience is designed to be as personalized as possible. Customers are requested to register prior to or on arrival to provide Miele with basic visitor/shopper information including gender, demographics, lifestyle, historic Miele purchase information, etc.
Visitors are provided with an Apple iPod Touch which contains the visitor's name, preferences and profile. The iPod Touch can be used to retrieve information on the store (such as a floor plan), provide detailed information on Miele products and services, and enable customers to request advice and recommendations from the iPod Touch system. The response of the system is based on the user's unique preferences and profile. Additional information can be printed out in-store or emailed to a customer's email address direct from the iPod Touch.
The store is equipped with indoor GPS technology which links to each iPod Touch each of which is equipped with its own GPS transmitter. This means Miele know which iPod Touch (and therefore which customer) is in which area of the store to the precision of 50 cm, the size of each square floor tile, each of which also has its own unique GPS address. This technology enables Miele to plot customer progress through the store and map shopping routes, hotspots and dwell times to help develop the digital experience.
A "decision engine" also analyzes the relationship between the visitor type and the area or product category they are in to refine the experience by adapting the media to suit their preferences. So advanced is this process that at any point in the store, the system can adjust local lighting, aroma/scent dispersal, audio type and levels, and the digital content that appears on screens close to the customer, within a matter of a few seconds.
Like the smell of fresh linen? If you said yes to that question when you signed up and you walked through the laundry zone, the system will know and it will dispense that aroma. If you're allergic or you don't like the smell, the system will replace it with something relevant that you do like.
Scala manages the coordination of these changes and physically applies the rules from the decision engine to the zone environment, from increasing or decreasing lighting brightness to the scheduling and dispersal of aromas, to the creation and scheduling of content for the more than 100 Apple and Philips screens installed throughout the store. These screens run multiple channels of content and provide interactive services across a range of screens including a 3 x 2 Z-shaped installation and a 3 x 3 installation of Orion borderless video walls.
Oscar Elizaga, VP EMEA for Scala, commented that "the Miele Inspirience Centre is so much more advanced in terms of its form and function than most existing implementations in retail that you could argue that one day, all retailers will embrace experiential digital marketing in some form in-store if it means we can make the experience more relevant and helpful for that customer. I am delighted Scala was chosen to play a part in this cutting-edge retail media project."
This approach provides a platform that gets close to offering visitors a unique experience. This relevancy, informed by the proprietary decision engine process enabled Scala to control not only screen content but building services and environmental variables to create a powerful immersive experience for the visitor and Miele's resellers.
To view a full case study on the Miele Inspirience Centre, please visit http://www.scala.com/news/studies/the-miele-inspirience-centre.
About House of Media Experience
Our team of professionals work daily creating television programs, multi-platform content productions and digital signage projects (point of decision and event centres). Since 2007, we focus on cross-media concepts gathering all required disciplines under one roof (in-house). Also within the group is a print team (brochures, magazines, books, publications, etc.). We see digital signage projects as an integrated part of the overall marketing communication mix, not just putting up some screens and repeating TV ads. It's a new medium that offers the opportunity to fine-tune content and create the right message for the right people at the right time and place. Next to Web 2.0, digital signage creates for the first time the opportunity for marketers to interact with their audience. Helping you to reach out where "the response is the communication."
More information available at http://www.houseofmediaexperience.nl/.
About Troades
Troades is a consulting and marketing research company specialized in the digital arena. We look at the customer from a multisensory experience view. Helping you to provide timely and relevant information to your captive audience and "Creating the fittest cross-media experience through experience." Troades is a Member of the Elevator Group. More information available at http://www.hybridesignage.com
For further information on Miele, visit http://www.miele.nl
About Scala
Driving more than 300,000 screens worldwide, Scala is a leading global provider of digital signage and advertising management solutions. Scala is the world's first connected signage company, offering the leading platform for content creation, management and distribution in digital signage networks and the first unified platform for advertising management of both traditional and digital signage networks. The company's digital signage customers include Rabobank, IKEA, Burger King, T-Mobile, Virgin MegaStore, Warner Brothers, The Life Channel, Rikstoto, Repsol, NorgesGruppen, Audi, ECE Flatmedia, Kaufhof (Metro Group) and thousands more. Advertising management customers include CBS Outdoor, Clear Channel Outdoor and Magic Media, among others. Scala is headquartered near Philadelphia, USA, and has subsidiaries in Canada, The Netherlands, France, Norway, Germany and Japan, as well as more than 450 partners in more than 60 countries. More information is available at http://www.scala.com.
###