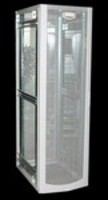 Global 1 Resources is always looking for innovative ways to provide solutions to IT managers and business owners alike and we feel that our G1 Universal Server Racks are a positive step in that direction
San Marcos, TX (PRWEB) August 12, 2009
Global 1 Resources has created a revolutionary new way to organize server rooms with their G1 Universal Server Rack. These server racks are designed to house both old and new sizes of servers from a variety of different manufacturers including Dell, HP, and APC. The enclosures are available both as regular server rack enclosures and co-location server racks.
The G1 Universal Server Racks were manufactured with the intention of maintaining comparable quality to name brand server racks such as Dell or HP, while allowing the purchaser the option of enclosing multiple brands of servers inside the same unit. This will give more flexibility to small businesses who might have pieced together multiple servers in order to meet their company's IT needs. The Universal Server Racks will allow IT managers to keep their server rooms organized, even if they are using different brands of servers. The G1 Co Location Server Racks are also a great option for companies housing other company's co-location servers.
The G1 Universal Server Racks are also compatible with data centers. The data center's demand for Global 1 products is what led to the formation of the Universal Server Rack, and these racks were originally planned with data centers in mind. Everything from the G1's durability and security to its appearance and compatibility were created with data centers in mind.
"Global 1 Resources is always looking for innovative ways to provide solutions to IT managers and business owners alike and we feel that our G1 Universal Server Racks are a positive step in that direction" said Marcos Garza, President of Global 1 Resources. "Our Universal Server Racks allow smaller companies to save money by only purchasing one rack as opposed to two or maybe even three, depending on their current server situation.
About the Company: Global 1 Resources is a manufacturer and supplier of server racks and server rack enclosures. Global 1 Resources also buys old and used IT equipment including server racks, servers and network switches. Visit http://www.global1resources.com or call 877-307-RACK (7225), for more information.
# # #