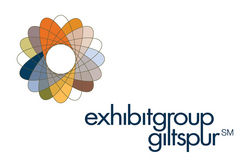 Receiving this award is the ultimate validation of all our hard work because it comes from our clients and peers
Chicago, IL (PRWEB) August 10, 2009
Exhibitgroup/Giltspur (EG), a leading experiential marketing agency, today announced that it has been awarded the first-ever TSEA Exhibitors' Choice Award for Favorite Exhibit House.
A record number of visitors flooded the Trade Show Exhibitors Association (TSEA) website this year to vote for the First Annual Exhibitors' Choice Awards. The winners were announced on July 22 at the TSEA Foundation Gala in conjunction with the TS2 show in Chicago. More than 5,000 event marketing professionals voted in the awards.
"Receiving this award is the ultimate validation of all our hard work because it comes from our clients and peers," said John Jastrem, CEO of Exhibitgroup/Giltspur. "It shows how deeply committed we are to delivering on our promise and making our clients' success our top priority."
EG's Robert Tarolla of ExpoServices in Las Vegas, was also named one of Exhibit City News' "40 Under 40" for up and coming tradeshow industry professionals. The "40 Under 40" profiles some of our industry's most dynamic young business leaders, vendors, exhibit and event managers, sales and account executives, entrepreneurs, managers, marketers, designers, and engineers. Nominees will be profiled in the August issue of Exhibit City News. To learn more about the "40 under 40," please visit the Exhibit City News website.
About Exhibitgroup/Giltspur (EG)
Exhibitgroup/Giltspur (EG) is an award-winning experiential marketing agency known for creating meaningful and memorable connections between leading companies and their customers. By producing powerful brand experiences through exhibits, events, mobile marketing tours, permanent installations, and retail environments, EG helps clients accelerate the sales process, deepen brand loyalty and consistently deliver superior results. The company also creates branded entertainment experiences that surprise and delight audiences worldwide. Backed by the financial strength of its parent company, Viad Corp (NYSE: VVI), EG employs nearly 600 professionals in 28 client care centers throughout the world. For more information, please visit http://www.e-g.com.
About TSEA
Since 1966, TSEA has been providing knowledge to marketing and management professionals who use exhibits, events and face-to-face marketing to promote and sell their products, as well as to those who supply them with products and services. Members benefit from access to education, networking, resources, advocacy and member-only discounts on products and services that all exhibit and event professionals use. TSEA is headquartered in Chicago, Illinois, and regional chapters exist throughout the United States and Canada. For more information, go to http://www.tsea.org. For the full list of Exhibitors' Choice Award winners, please visit the foundation page on TSEA's website.
###