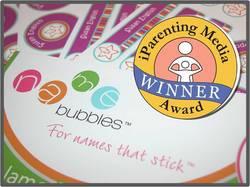 We are thrilled by the positive response of the iParenting reviewers and extremely honored to be an iParenting Media Award winner
Saratoga Springs, NY (PRWEB) August 11, 2009
Name Bubbles, a leader in children's personalized press and stick labels, today announced that their labels have received the prestigious iParenting Media Award for 2009 Outstanding Products. A Disney Internet Group media property focused on parenting, iParenting Media Awards is a premiere product evaluation and testing service.
Made with an eco-friendly and non-toxic ink, Name Bubbles are a perfect choice for labeling the many items kids use at daycare, school, and afternoon activities. Stylized to stand out, Name Bubbles help keep items from being lost, saving families time and money. Every Name Bubbles label pack provides a mix of laminated waterproof label styles that are durable, washing machine, and dishwasher safe. Label text can be as simple as a name, or customized to include a wide variety of information such allergy alerts, contact information, or medical conditions.
iParenting's evaluations are conducted by a panel of independent reviewers comprised of licensed childcare professional, institutions, and parents. The panel maintains a stringent and objective process of evaluation, scoring products, and recognizes the best products with the iParenting Media Award.
The iParenting Media Award reviewers of the Name Bubbles labels specifically noted that:

"The Name Bubbles secured well to all kinds of items and held up through multiple washes in the dishwasher and washing machine. The Name Bubbles would be very useful for a child who goes to daycare, or is involved in sports to label their items and to help to keep from losing them or mixing them up with others items. I like the many colorful sizes and designs. I especially liked that on their website they come in affordable packs of many different personalized styles for pretty reasonable prices. I also enjoyed the bubble up blog on their website (namebubbles.com) with ideas of other useful ways to use the labels."
"As labels are really important at school, camp, day care, it helps to have some that last through dishwashers and laundering. These labels did! I washed them multiple times and they still looked like they did before going in. I also like that they're different shapes, depending what they're intended for (either clothing, cups, etc.)"
"The positive characteristics of this product are that you can have personalized labels with the amount of information desired. Also, having a label that won't be damaged by water will allow them to be used on just about anything."
"We are thrilled by the positive response of the iParenting reviewers and extremely honored to be an iParenting Media Award winner," said Name Bubbles Founder Michelle Brandriss. "The Name Bubbles team truly values this distinguished award and to be endorsed by such a respected family resource confirms our commitment and enthusiasm in providing an excellent product to parents and their families,"
About Name Bubbles
Located in upstate New York, Name Bubbles is a leader in press and stick kids labels. Name Bubbles waterproof labels are dishwasher, microwave, and laundry safe. Custom packs are available for camp labels,school labels, and daycare labels. Fun and functional, Name Bubbles are a great choice for baby bottle labels, school uniform labels, and personalized name labels. http://www.NameBubbles.com
About iParenting Media
iParenting.com, an online community for parents and parents-to-be, is part of Disney Online's network of family-focused Web sites including Disney Family.com, FamilyFun.com and Wondertime.com. Founded in 1996 the company has grown from a single pregnancy site, PregancyToday.com, to an award-winning network of more than 40 sites, in English and Spanish. The iParenting sites address a range of parenting issues from preconception through raising teenagers and beyond. iParenting Media's Editor-in-Chief, Elisa Ast All, MSJ, writes a monthly newspaper column and co-hosts a Chicago-based radio show, Points on Parenting. iParenting Media produces the highly-respected iParenting Media Awards program. Consumers can learn more about iParenting Media Award-winning products, and where to purchase the products via a retailer network online directory, by visiting http://www.iParentingMediaAwards.com/consumer.
###