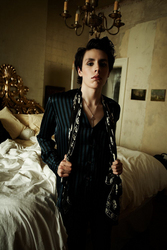 He's a great friend and someone I've known for years
Burbank, CA (PRWEB) August 12, 2009
The network's entertainment president, Dawn Ostroff, says she would love to see Bertrand on The Beautiful Life (produced by Ashton Kutcher's production company Katalyst Films) and has already filmed test scenes with the esteemed fashion model.
"We would love to (have him)," Ms Ostroff said.
"Adam has not signed an official contract with us, but if all goes accordingly, he is in line to play the new role of "Mason" mid-season. We would love to have him on TBL - either as a series regular or as a guest star," she added.
Bertrand announced last week he was ending his two-year stint as a model for Ford after failing to get as large a pay rise as he hoped for in his contract negotiations.
Series lead Mischa Barton, who has seen trouble of her own recently, commented on Adam Bertrand's addition to what the CW hopes will be a top-rated TV show. "He's a great friend and someone I've known for years," she said. "Filming with him was fantastic and I hope he joins TBL for good," she added.
Due to the fact that Bertrand has refrained from signing a contract as of now, The CW should not be able to use his name or image to represent the show - something they already did by using his photo in a promotional poster - controversially, that is. "He's in New York right now, working on the show," executive producer Ashton Kutcher said at the Television Critics Association conference in Los Angeles. "He has filmed a guest spot and is in negotiations to be a series regular. It is very appropriate that he be used in promotional material." Kutcher added, "His experience and navigation as a professional and highly in-demand runway and print model has been, and will continue to be, indispensable for our cast."
The CW, which will air the new series in September, says model and singer Adam Bertrand is also among a number of other artists they have recruited for spots on the series soundtrack, which is already being planned by the CW and Warner Alliance.
Bertrand has been recording his debut album, purportedly entitled "Hot Mess," for over six months. Producers include RedOne and Space Cowboy, both of who helped musician Stephanie "Lady GaGa" Germanotta top the charts with her first record. Fellow CW/Gossip Girl star Leighton Meester has also confirmed contributing.
###