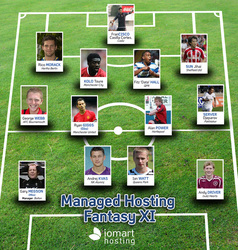 (PRWeb UK) August 13, 2009
Having formed their own league, the team at iomart hosting hit upon the idea of creating a Fantasy XI using players with names, no matter how tenuous, with links to the data centre and managed hosting industry. The rules were simple; using a 442 formation; players could be selected from any country and must have represented their clubs during the 2008/9 season.
Having quickly named four players, with the rather obvious colocation related choice of Kolo Toure , Manchester City's recent £15M signing from Arsenal being the first name on the team sheet, the struggle began.
With a goalkeeper, 3 defenders, a midfielder and two forwards still to find, the team turned to Twitter and close contacts for advice, suggestions and help. Finally after two days of information 'transfer' activity, the All Star Fantasy Managed Hosting XI was complete.
Phil Worms, iomart Hosting Marketing Director, stated: "It really was a game of two halves. We really struggled on the first day, but after a frank team talk, and a review of our tactics, we opted for a long punt on Twitter, and that turned our fortunes around on the second day. We have to say we're over the moon with the final result."
Phil added: "Although we are delighted with our first team, we are always looking for new players to add depth to the managed hosting squad and would be delighted to receive further suggestions (via Twitter)
The final Managed Hosting Fantasy XI
Goalkeeper
FranCISCO Casilla Cortes - Cadiz (CISCO)
Defence
Rico MORACK - Hertha Berlin (Rack)
KOLO Toure - Manchester City (Colocation)
Fitz (data) HALL - Queens Park Rangers (Data Hall)
SUN Jihai - Sheffield United (Sun)
Midfield
George WEBB - AFC Bournemouth (web)
Ryan GIGGS (Gbs) - Manchester United (Gigabits)
Alan POWER - Hartlepool (Power)
SERVER Djeparov - Pakhtakor (server)
Forwards
Andrej KVAS* - NK Aluminij (KVA = Kilo Volt-Amps)
Ian WATT - Queens Park (Watts)
Sub
Andy DRIVER - Heart of Midlothian (Driver)
Manager
Gary MEGSON (Mbs) - Bolton Wanderers (Megabits)
About iomart Hosting
Founded in 1998, iomart hosting holds a unique place in the hosting market in that it genuinely offers a 'one source' approach. By physically owning and managing its own network infrastructure, including 5 state of the art Data Centre facilities, it offers world beating levels of service to its customers. iomart hosting offers managed services, ranging from single server management through to complex managed environments. All hosting services are customised to suit a client's exact requirements and are designed for superior performance, reliability, security, and scalability.
###