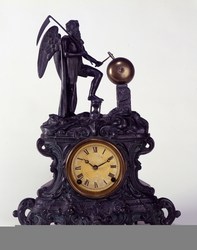 Lexington, MA (PRWEB) August 13, 2009
From waking to the rooster's crow to catching the 8 am train, how Americans judge and value time has changed over the centuries. "For All Time: Clocks and Watches from the National Heritage Museum" is a new exhibition, opening August 15, 2009, that explores the story of timekeeping through spectacular objects drawn from the Museum's own collection. The Museum is pleased to present a focused look at this part of our holdings, which has long been popular with visitors. Each of the 95 clocks in the exhibition--including five working tall case clocks and two wall clocks--range in dates from the 1500s to about 1930. Each is a complicated machine with its own story to tell about who used, made or marketed it and, most interestingly, how it fit into Americans' relationship with time. Twenty-two watches are also presented. The exhibition is on view through February 21, 2010.
"For All Time" examines the notion of time in Colonial days when people relied on nature--the sun, moon, tides and seasons--to gauge the passing hours. Bells, public sundials, and town clocks helped people plan their business or social engagements. The exhibition also traces the history of how timepieces evolved from prizes owned by status-conscious families--as illustrated by the lovely tall case clock made by noted Boston clockmaker Benjamin Willard--to affordable objects, ubiquitous to every home.
The clockmaking revolution spurred by Connecticut inventor Eli Terry in the early 1800s is explored, revealing how moderately-priced wooden works made affordable time pieces available to many Americans. American watchmaking took off mid-century when Aaron Dennison opened his factory in Waltham, Massachusetts and proved that the United States could "compete with the cheap labors of the old countries." By 1900, many watch-making companies had made literally millions of watches. Pocket watch production and ownership reached its peak in the decades between 1880 and 1920.
In the mid-1800s, spurred by increasing need, capacity and competition, clock manufacturers began offering a greater variety of timepieces for purchase. Different makers hoped their products would stand out in the crowd, as most assuredly two timepieces on view did--the owl-shaped clock sold by Theodore Starr and the handsome Father Time clock manufactured by E. N. Welch. Designers also created clocks to complement particular home decoration schemes. By the 1900s, many Americans owned several clocks, selected for their size, function or style, and displayed them throughout their homes.
Many of the clocks in "For All Time" came to the Museum from the collection of Ruth and Willis R. Michael of York, Pennsylvania. Mrs. Michaels' gift of over 140 objects from her husband's collection forms the core of the Museum's timepiece holdings. An exuberant ironwork tall clock and a 19th-century French clock featuring a female figure whose graceful arms point to the time are a few of the pieces from the collection on view.
Mr. Michael was a tool and die maker and entrepreneur who purchased his first clock in the late 1930s--a tall case clock crafted in the late 1700s by George Hoff of Lancaster, Pennsylvania. In Mr. Michael's own words, that's when he "got the bug." His collection grew to include hundreds of items.
A few years after Mr. Michael died, Mrs. Michael began making a series of gifts from her husband's collection to Museum, newly founded by the Scottish Rite Masons of the Northern Masonic Jurisdiction. She likely did so in honor of her husband's lifelong involvement in Masonry. The Museum's collection is much richer for the Michaels' enthusiasm and generosity.
The National Heritage Museum is dedicated to presenting exhibitions and programs on a wide variety of topics in American history and popular culture. The Museum is supported by the Scottish Rite Freemasons in the Northern Masonic Jurisdiction of the United States. The National Heritage Museum is located at 33 Marrett Road in Lexington, at the corner of Route 2A and Massachusetts Avenue. Closed Monday, except on selected holidays. Hours are Tuesday through Saturday from 10 am-4:30 pm, and Sunday, noon-4:30 pm. Admission and parking are free. Heritage Shop and Courtyard Café on site. For further information, contact the Museum at (781) 861 6559 or visit the web site at http://www.nationalheritagemuseum.org.
###