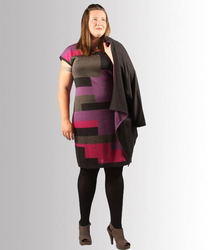 With the proper undergarments, curves are smooth and sumptuous
Los Altos, CA (PRWEB) August 13, 2009
La Grande Dame, http://www.lagrandedame.com iis proud to introduce fabulous fall fashions for plus sized women from top designers including Dominique De Sentino, Marina Rinaldi, Kinross Cashmere and more. La Grande Dame is a hot new e-boutique dedicated to providing envy inducing styles for plus sized women.
Founded by mother and daughter team Michelle Wood and Catherine Wood Hill, La Grande Dame is making a huge splash in fashion circles with their varied and beautiful selection.
"So many women feel they don't deserve to buy beautiful clothing for themselves until they lose weight or because they are too fat to look good in anything. That's ridiculous, if women wear clothes made for their particular body type in wonderful fabrics, every woman can look and feel great" exclaims Wood. "With the proper undergarments, curves are smooth and sumptuous".
La Grande Dame is proud to introduce co-founder Michelle's Must Haves for Fal l:
Ruffles
"Nothing says feminine and flirty like a ruffled blouse!" Many women are afraid that ruffles will make them look larger but as long as they are properly placed and not too big, ruffles can flatter any body type. I look for tops that have an asymmetric ruffle detail, such a beautiful top by De Sentino. Softer fabrics are also a more flattering way to wear this trend as they don't add volume as a more structured fabric would.
Capes
Capes have an air of luxury and mystery that I love. Plus, they are so practical. A cape can be worn with almost every item of clothing in your wardrobe, especially if you purchase one in a neutral color. Throw a cape on over jeans and a tee shirt and you are instantly put together and a cape looks equally at home over a cocktail dress. Just remember to buy one that is proportioned for you. If you are petite, a shorter cape such as one from Marina Rinaldi will make you look confident and put together."
Sparkle
Sparkle is just not for evening anymore. Whether larger or small, sequins, shimmer and sparkle add drama and fun to any outfit. Pair a sparkly top with a suit for a put together but not stuffy look. Pair a sequined skirt with a nubby sweater for a comfy, cozy, eye-catching ensemble. For evening go all out! Sparkle exudes confidence and will ensure that all eyes are on you!
Dark, luxurious fabrics
Wool and silk are two of my favorite fabrics and this fall they are at their dark and luxurious best! Layering grey tailored wool trousers and dark silk blouses under nubby sweaters make this falls styles look exceptionally put together and sophisticated. Greys, blacks and browns have never been so stylish.
Pink
The brighter and bolder the better! This fall is not about baby pink - hot pinks, fuchsias and neons are going to look most current and on trend. Many plus sized women think they can't wear bright colors because "dark colors are slimming". Nonsense! Well fitting, high quality clothing is slimming, regardless of the color. Have fun with your clothes and make friends with your tailor!
About La Grande Dame
Located in beautiful Los Altos, CA, La Grande Dame (http://www.lagrandedame.com) is an online retail company specializing in high-end fashion for plus sized women. With a passion for fashion and desire to make women feel beautiful, La Grande Dame has spent the last decade scouring stores across the country and even abroad, searching for stunning clothing and accessories to offer their clientele. La Grande Dame is a fashionista favorite, garnering frequent coverage on Plus Size About.com, a recent photo spread in Venus Diva Magazine and coverage on morning shows and blogs across the country.
For more information about La Grande Dame or Michelle's tips please contact Catherine Wood Hill by calling 866-972-3263 or emailing catherine (at) lagrandedame.com.
###