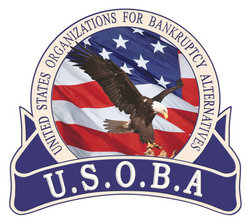 Education about our industry to all parties involved is critical. This study paves the way for an open dialogue.
Houston, TX (Vocus) August 13, 2009
The United States Organizations for Bankruptcy Alternatives, a leading trade association representing debt negotiation companies is endorsing a new and groundbreaking study examining the industry of debt settlement. Dr. Richard A. Briesch, an Assistant Professor of Marketing at Southern Methodist University's renowned Cox School of Business, released the study entitled "Economic Factors and the Debt Management Industry" earlier this month.
"This shared study offers for the first time a clear and detailed debt settlement consumer welfare analysis, amply provided for and detailed in the extensive samples used in the research," said John Ansbach, Legislative Chair of USOBA. "We're hopeful the study will contribute to the ongoing discussion of how best to ensure that honest, ethical debt settlement companies can continue to support consumers in need," Ansbach said.
Dr. Briesch, noted for his studies on consumer decision-making, makes a case for the need for debt settlement. "This economic climate implies that many consumers are only one emergency away from financial hardship. There is no question that the multitude of people currently in financial distress need programs that reduce the principal of their debt to stave off bankruptcy."
Dr. Briesch went on to add, "One of the most important findings of this research is how a debt settlement program can help consumers by increasing their economic welfare as compared to paying off the debt under the original conditions." Dr. Briesch also issued findings on banning up-front fees, a position the Federal Trade Commission has supported recently. "Finally, we find that charging consumers reasonable "up-front fees," i.e., fees before settlement, is consistent with practices in other industries…and can be justified based on value provided to consumers as well as expenses incurred generating this value. Any attempt to ban these fees would have a chilling effect on the industry and is inappropriate for this industry," Briesch concluded.
Debt settlement is a relatively new industry. Settlement companies act on behalf of consumers, negotiating directly with creditors to facilitate repayment of consumer debts at a reduced percentage of the total amount owed. In return, consumers generally pay a percentage of the total amount owed as a service fee. Upon completing a debt settlement program, consumers' debts included in the program are "settled," or resolved with zero balances.
Jenna Keehnen, Executive Director of USOBA, commented on the study, "Education about our industry to all parties involved is critical. This study paves the way for an open dialogue."
The study will be made available to members of state legislatures, Congress and the Federal Trade Commission (FTC) in an effort to share with them the distinctions within the debt settlement industry.
The paper can be found at http://www.consumercreditchoice.org.
About Dr. Richard Briesch
Dr Briesch is Associate Professor of Marketing at Cox Business School at SMU. He received his BS degree in Applied Mathematics from Carnegie Mellon University, MBA from Rice University and PhD from Northwestern University. His articles have appeared in journals such as: Marketing Science, Journal of Marketing Research, Journal of the American Statistical Association, Journal of Consumer Research, Journal of Retailing, Marketing Letters and Journal of Business and Economic Statistics. He has won the Davidson award, the Cox School's research excellence award, and outstanding teaching award.
About USOBA
USOBA is the debt settlement industry's oldest trade association, dedicated to the advancement of consumer protection in the debt settlement industry. It was founded by leading members in the debt settlement industry seeking representation outside of credit counseling and bankruptcy law. USOBA brings individual representation together as a united front to protect the debt settlement industry and to secure its future. USOBA is committed to working with and providing information to legislatures, regulators, consumers, creditors, other industries and governmental bodies to help them attain a better understanding of the industry.
###