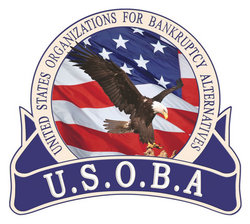 They are the stepping stone of improvement of the debt settlement industry.
Dallas, TX (Vocus) August 12, 2009
The United States Organizations for Bankruptcy Alternatives, the oldest, active trade association for the debt settlement industry, held its quarterly Board of Directors meeting in Dallas, TX last week. The meeting agenda covered several committee topics including legislation, member services, and the newly-formed Certifications and Standards committee.
Executive Director Jenna Keehnen introduced Kenny Epstein as the new chairperson for the Standards and Certifications committee to the board. According to Keehnen, this committee is a great tool for USOBA to re-emphasize its standards to its members.
USOBA created the first set of standards for the debt settlement industry. It also has membership requirements that include consumer protective measures, a consumer complaint process, UCAP, free marketing analysis, and accreditation from which member companies and consumers benefit.
"We take great pride in the standards we've set for the industry," Keehnen said. "They are the stepping stone of improvement of the debt settlement industry."
The Board also discussed the pending state and federal legislation that can potentially affect the debt settlement industry, and began discussions on how to continue ensuring consumer protection in the industry through education, increased standards, and codes of conduct for its member companies.
About USOBA
USOBA is dedicated to providing its member companies with important, industry-related information, including compliance requirements, as well as advocating on behalf of its membership for fair and appropriate industry regulation that maintains the utmost in consumer protection. USOBA members are provided a USOBA State Law Summary guide, the only one of its kind in the industry, to better ensure and promote national compliance. This guide contains the laws and regulations, state by state, and has been reviewed by regulators and legislators. For further information, please visit http://www.usoba.org.
###