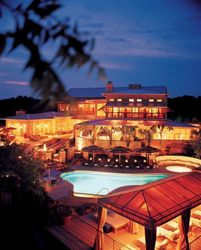 Austin, TX (Vocus) August 14, 2009
Fortunately in these times, people still recognize the value that a destination spa vacation provides, and Lake Austin Spa Resort has established that the power of a seven night structured spa program can have long lasting, beneficial results to one's health and well-being.
The Power of 7 Program is customized by the resort's in-house Power Team of certified experts and is available any week of the year, on any arrival day, making it one of the most flexible and customizable healthy lifestyle programs in the spa industry. Because the resort has just 40 lakeside accommodations, guests who partake in this healthy living spa vacation receive the benefits of highly personalized attention and pre and post communications extend the experience well beyond just seven days.
Here are three sample "life tracks", though any goals can be addressed by the Power Team during a Power of 7 stay at Lake Austin Spa Resort:
FRESH FITNESS: For people who want to get off the couch and start a fun, fresh exercise program.
STRESS MANAGEMENT: For guests looking for a respite from everyday pressure and to learn strategies to lead a more peaceful, positive life.
WEIGHT LOSS: For those who want to manage their weight healthfully and effectively.
From acupuncture to Zumba®, the staff has expertise to help guests meet and exceed their healthy lifestyle goals and access their inner power during their spa vacation. Certified experts specialize in an array of fitness disciplines, as well as spa therapies and treatments, nutrition, healthy cuisine, gardening, meditation, motivation, stress management and more. The entire program is overseen by the resort's Fitness Director, who holds a Ph.D., as well as several nationally recognized fitness certifications with a focus on healthy behavior modification and exercise adherence.
The spa vacation package includes:
-Seven nights accommodations
-Three gourmet meals daily
-Unlimited fitness classes and discovery programs
-$500 personal consultation allowance to be used towards fitness assessments, personal instruction or nutrition counseling in your personalized program
-$1,000 spa allowance to be used at the LakeHouse Spa
The Power of 7 Program is offered at an introductory rate for $3,995 per person in private premier accommodations, or $3,495 per person for double premier accommodations. The full value of a structured spa program such as this would be $6,495, thus up to a 50% savings. The savings is applicable on stays through the end of February 2010.
Reservations: 1-800-847-5637.
ABOUT LAKE AUSTIN SPA RESORT
Nestled along the shores of scenic Lake Austin in the beautiful Texas Hill Country, Lake Austin Spa Resort offers guests the luxury of a world-class spa and the warmth of a best friend's lake house.
The resort has received numerous awards from prestigious national travel and spa magazines since its multi-million dollar renovation and expansion in 2004. Travel + Leisure, Condé Nast Traveler, Allure, InStyle, Luxury SpaFinder, Departures, Spa Magazine, The Zagat Survey and American Airlines' Celebrated Living magazine have recently honored Lake Austin Spa Resort as one of the best in the country and in the world.
Lake Austin Spa Resort offers all-inclusive vacation packages, which include accommodations in one of 40 charming lakeside guest rooms, three gourmet meals daily, indoor and outdoor fitness activities and classes, and a selection of luxurious spa and body treatments. For additional information and reservations, please call 800-847-5637, or visit http://www.lakeaustin.com.
# # #