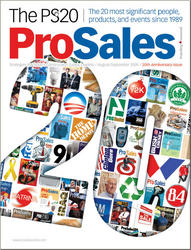 There may be disagreement about particular choices, but we feel there'll be no disagreement that every listing on the PS20 helped contribute to the state of construction supply today
Washington, D.C. (PRWEB) August 12, 2009
PROSALES magazine, celebrating its 20th anniversary as America's leading news service for pro-oriented building material dealers and distributors, announced today its PS20: The Twenty Most Significant People, Technologies, Products and Events that have done the most to shape the construction supply business since 1989.
"The list reveals the sea change this industry has gone through," said Craig Webb, PROSALES' editor. "When we started, the prevailing wisdom was that consumer-oriented home centers were the way to get ahead. Our focus made us, as PROSALES' first editor put it, 'a cult publication.' But time has shown that the traditional lumberyards and building supply companies that focused on selling to the professional are the ones that have prospered. The PS20 celebrates those people and the times they've experienced."
The list was compiled by PROSALES' editors after consulting with the magazine's Editorial Advisory Board, the heads of regional and national building material associations, and past PROSALES editors. The list was presented in no particular order.
Here's the PS20:

Joe Hardy, founder of 84 Lumber.
The Housing Bubble, which caused rapid expansion among all dealers and fostered the creation of some production builder-oriented dealers.
Information technology, which made it possible for dealers to track and analyze their businesses as never before.
Paul Hylbert, chief of executive officer of ProBuild, America's biggest building material dealer.
Random Lengths, the industry's premier provider of lumber product price information.
Cordless power tools, which transformed the tool industry.
Mobile telephones, which made it possible for dealers to keep better track of deliveries and, through cellphone cameras, document what they delivered.
Building Materials Holding Corp., a pioneer in turnkey framing services.
Component manufacturing by dealers, turning them into manufacturers of trusses, wall panels, and moulding.
The rise of showrooms at building material dealers.
Engineered, composite and plastic lumber, which have steadily pushed solid-sawn wood out of homes.
The increasing share of the homebuilding market provided by the biggest builders.
The Home Depot, whose growth and ubiquity led dealers nationwide to start focusing on pros rather than consumers.
Bill Hayward, arguably America's greenest building material dealer.
Activant's Eagle software, the most popular sales and order-entry system in use at dealers today.
The optimizer, a machine that scans logs to determine how to saw them most efficiently--and that helped mills use smaller, more quickly grown trees.
Building material dealers that specialize, such as roofing companies.
Lumbermens Merchandising Corp., a premier buying co-op for dealers.
The rise of installed sales by dealers, particularly for the installation of windows, doors and other parts of the house that require special expertise.
Regional building materials associations, a key source for information, benchmarks and fellowship among dealers.
Visit http://www.prosalesmagazine.com/PS20 for expanded coverage of the PS20.
"There may be disagreement about particular choices, but we feel there'll be no disagreement that every listing on the PS20 helped contribute to the state of construction supply today," Webb said. "Lumberyards today might still carry that same woodsy aroma that they did a generation ago, but how they handle and sell products has changed dramatically--mainly because of the influences we list in the PS20. It's a fitting summary to 20 years of PROSALES coverage."
PROSALES provides residential construction companies with information, insights and advice on improving sales and service. PROSALES covers the entire market with its magazine, Web site, weekly e-mail newsletter, blogs, Webinars and YouTube videos. For more information, visit http://www.prosalesonline.com.
About Hanley Wood
Hanley Wood, LLC, is the premier media and information company serving housing and construction. Through four operating divisions, the company produces award-winning magazines and Web sites, marquee trade shows and events, rich data and custom marketing solutions. The company also is North America's leading publisher of home plans. Hanley Wood Business Media (Washington, D.C.) publishes 30 award-winning residential and commercial construction titles, including BUILDER, REMODELING, CUSTOM HOME, CONCRETE CONSTRUCTION and residential architect. Hanley Wood Business Media also offers the construction industry's foremost collection of Web sites, including BUILDER, REMODELING, and ebuild, the comprehensive online guide to building products, as well as the largest collection of house plans online through ePlans.com and Dream Home Source.
Founded in 1976, Hanley Wood is one of the ten largest B-to-B media companies in the United States. Hanley Wood is owned by affiliates of JPMorgan Partners, which uses CCMP Capital Advisors to manage this investment.
###