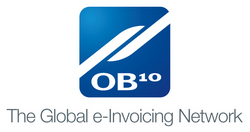 With other solutions such as OCR and EDI, it's extremely difficult, if not impossible, to extract a compelling ROI
Atlanta, GA (PRWEB) August 12, 2009
To assist organizations searching for ways to optimize their Accounts Payable (AP) processes, OB10, the leading global e-Invoicing network, recently hosted a complimentary webinar titled Overcoming the Top 7 Barriers to e-Invoicing. The webinar, co-hosted by IOMA, the acknowledged leader in providing practical information to the AP profession, taught participants how to identify potential roadblocks when considering an e-Invoicing project for their organizations.
The webinar attracted almost 400 registrants interested in overcoming various obstacles when initiating an e-Invoicing project at their company. Each step outlined during the session provided practical tools that anyone in AP can utilize to help streamline the invoice receipt process and ultimately reduce costs.
Donna McGuinness, Director, OB10 Western Region, was the featured speaker during the webinar and walked participants through details of overcoming the 7 barriers, starting with a need to understand where to begin as well as knowing what is important to which internal departments.
"Many organizations struggle with knowing where to start, let alone understanding what's important to which internal groups while working to gain support," said McGuinness. "Once you know where to begin and you've identified the issues that are important to your organization's departments that may support such an initiative, the other five obstacles can be addressed more readily."
An organization must then complete their due diligence in steps three and four; fully understanding which options and features are available from which vendors. "There are so many variations out there from so many different providers, it's easy to become confused about which vendor may be right for you," added McGuinness. "Organizations should take the time to ask as many questions as they can because it's important to know and understand exactly what vendors will do and what they will not do. It's also important to have a thorough understanding about what will be required by you, the buying organization, when implementing an e-invoicing initiative."
Step five offers details on ensuring a return on investment (ROI) after implementing an e-invoicing initiative. "With other solutions such as OCR and EDI, it's extremely difficult, if not impossible, to extract a compelling ROI," said McGuinness. "If considering these other solutions, costly hardware and software investments often make implementation cost-prohibitive. With e-Invoicing, significant ROI can be realized in as little as a year."
Understanding all the details of an agreement and ensuring the selected vendor delivers on an organization's expectations are critical to step six. Step seven offers insight into ensuring all the right questions have been asked and enough information has been collected to allow the buying organization to make an informed decision.
Duncan Jones, senior analyst for Forrester Research, in the Forrester Wave Report AP-EIPP, Q2 2008, states, "A major challenge for sourcing professionals who want to lead an AP-EIPP selection project is the diverse range of companies claiming to offer invoice automation solutions. Complete solutions will deliver four key capabilities: enable suppliers to submit invoices electronically, straight from their own systems; transform the data into a usable format and layout; validate data, using supporting records and discrepancy approval workflows; and provide process monitoring so buyers and suppliers can work together to reduce errors. Complete AP-EIPP solutions will automate the functions necessary to support these four stages of the invoice-to-pay process."
"Organizations must also understand that success ultimately lies in the supplier enrollment process," said McGuinness. "You can't obtain ROI, cost savings or optimization without ensuring that your suppliers have been enrolled and are transacting. By following these simple but important steps, organizations can be better equipped to make informed decisions when selecting an e-Invoicing provider."
To listen to the webinar in its entirety, including the FAQ session, and to fully understand what it takes to initiate a successful e-Invoicing project in your organization, log onto the OB10 web site at http://ob10.com/Country/US/Webinars_2 and click on the link near the bottom titled Overcoming the Top 7 Barriers to e-Invoicing.
About OB10
OB10 (http://www.OB10.com) is the leading global B2B e-Invoicing network. OB10 simplifies and streamlines the complex invoice-to-pay processes. Neither client organizations nor their suppliers are required to implement any hardware or software, and OB10 is independent of data file formats. OB10 can reduce the cost of paper invoice processing by typically 60 percent and can deliver an ROI in less than a year if the program follows OB10's best practice guidelines. Operational across Europe, North America and Asia, OB10 is compliant with the requirements of VAT, tax and e-Invoicing legislation and receives invoices from suppliers in over 100 countries. To ensure unrivalled and rapid supplier enrollment, each new customer's suppliers are supported by an implementation services team responsible for getting them up and running on the OB10 network.
Customers include: Agilent Technologies, Apple®, BP, Barclays, Cargill, DHL, DSG International, Eli Lilly & Company, Fisher Scientific, General Motors, GlaxoSmithKline, Hewlett Packard, IBM, Kellogg's, Kraft, Logica, Lufthansa, Mohawk Industries, Motorola, Norwich Union, Pfizer, SaraLee, Schneider Electric, Shaw Industries, Steria, US Federal Government, VWR and Xerox.
###