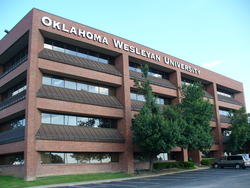 With the addition of online programs, we are taking those two factors to the next level.
Bartlesville, OK (Vocus) August 12, 2009
With the unequivocal approval of the Higher Learning Commission of the North Central Association of Colleges and Schools, Oklahoma Wesleyan University in Bartlesville, Oklahoma, has expanded its Adult & Graduate Studies platform to include several totally online degree programs.
The new online programs include:

Bachelor of Science in Nursing (RN to BSN);
Bachelor of Science degree in Ministry and Leadership;
Bachelor of Science degree in Organizational Management and Ethics;
Associate of Arts degree in Early Childhood Education;
Associate of Arts degree in General Studies/Business.
These programs have been launched due to the increased infrastructure made possible by a recent move to new facilities in Tulsa, Oklahoma. Located near the northeast corner of Hwy 169 and Hwy 51 (Broken Arrow Expressway) at 10810 E. 45th Street, the new facility offers 16,498 sq. ft. of space, including office suites, classrooms, a large reception and lecture hall with seating for up to 100, student lounge with vending area, student computer/copier resource room and online delivery technology that is on the cutting edge.
In addition to students who take advantage of OKWU's eighteen onsite Adult & Graduate Studies programs throughout Oklahoma and Kansas, the move into fully online programming now allows students to access OKWU from sites around the country. According to Dr. Brett Andrews, Vice President for Academic Program Development, "These programs are the same high quality, fully accredited degree programs that we teach on the main campus. The only difference is the online-delivery format." Dr. Robert Myers, Executive Vice President explains, "We are thrilled to provide education in a convenient online format. Our new online programs give adults a chance to complete their degrees while traveling, holding full time jobs, and managing busy families. OKWU online students not only become experts in their academic disciplines, but also learn to apply biblical perspectives to all that they study. OKWU online programs change the lives of our students forever."
Enrollment is now open and classes begin this fall. For further information, contact Janet Lightfoot at 918-335-6267 or 1-800-375-4647. "Convenience and flexibility are among the most important factors adults look for when considering returning to school," says Dr. Paulita Brooker, Associate Vice President for Adult & Graduate Studies. "With the addition of online programs, we are taking those two factors to the next level."
Oklahoma Wesleyan University is a four-year, Christian university of the liberal arts and sciences that is fully accredited by the North Central Association. OWU also receives professional accreditation from the National Council for Accreditation of Teacher Education (NCATE), the Commission on Collegiate Nursing Education (CCNE), and the International Assembly of Collegiate Business Education (IACBE). It is a member of the Council of Christian Colleges and Universities as well as the Council of Independent Colleges and Universities and the Association of Oklahoma Independent Colleges and Universities.
###