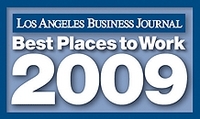 This is a great achievement for our first time participation
Los Angeles, CA (PRWEB) August 13, 2009
TravelStore was recognized as one of 70 recipients of the 2009 winners of the Best Place To Work Award by Los Angeles Business Journal. The announcement was made at an awards luncheon ceremony held at the Millennium Biltmore Hotel in Los Angeles.
The Best Place to Work survey and award is a countywide effort designed to identify, recognize and honor the best places of employment in Los Angeles. The list of finalists is made up of 70 companies split into three groups: 5 small-sized companies, 50 medium-sized companies, and 15 large-sized companies. Of the 50 finalists in the medium-sized company category, TravelStore was ranked #19.
"This is a great achievement for our first time participation," said Wido Schaefer, CEO of Los Angeles-based TravelStore. "As this is not based on any financial metrics, such as sales growth, it truly validates the culture of our company and the spirit and teamwork that we all embrace."
A large part of the award process consisted of an employee survey to measure the employee experience. The combined scores from the surveys determined top companies and the final ranking. Best Companies Group, a professional firm in Harrisburg, PA, managed the overall registration and survey process with assistance from Modern Think LLC, who analyzed the data and used their expertise to determine the final rankings.
Established in 1975, TravelStore is the largest independently-owned agency in California. TravelStore became an ESOP (Employee Stock Ownership Program) company in 2005. It is consistently ranked as one of the premier travel agencies in the nation, specializing in both business travel management and vacation travel services, including cruise vacations and honeymoons.
The company has six locations in California, with two in Los Angeles County that were included as part of the 2009 Best Place To Work survey and awards program.
###