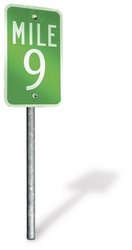 We're excited to have the brand at Mile 9, and look forward to many more successful launches across the country
Los Angeles, CA (PRWEB) August 12, 2009
Mile 9 announced today that it has been hired by New York-based Rosa Mexicano Restaurants as the upscale restaurant chain's agency of record. Mile 9 will handle all creative and media chores. First item on the menu: launching Rosa Mexicano in Los Angeles.
"We're excited to have the brand at Mile 9, and look forward to many more successful launches across the country," said Howard Greenstone, restaurant group COO and Partner. "The agency's brand direction, from its creative voice to the collaborative service, has been a breath of fresh air."
In August Rosa Mexicano, which boasts eight locations from New York to Miami, will open its first west coast location in downtown Los Angeles at L.A. LIVE. With its collection of exquisite dining spots, L.A. Live attracts event goers and the downtown lunch crowd.
"The challenge is a very New York restaurant with a terrific reputation and brand loyalty entering a very Mexican restaurant-heavy market such as Los Angeles, so we need to showcase the unique experience and the unmatched cuisine," said Mile 9 President Jeff Smaul. "Creatively we're trying to speak to Los Angeles and stay true to the brand."
To promote the new location, Mile 9 built a campaign around finding the restaurant--literally and figuratively. "Finding Rosa" showcases what the restaurant has to offer from a taste standpoint but also allows the creative to literally point consumers in the restaurant's direction.
The agency will launch the campaign later this summer. Elements include a combination of mouthwatering experiential stunts and outdoor marketing asking Where's Rosa? and What's Rosa? Curbside guacamole tastings, mobile billboards, and Rosa Mexicano brand ambassadors will invade Los Angeles during the August and September months. Additionally, Mile 9 will serve up interactive, customized entry points or splash pages for http://www.rosamexicano.com to promote the Los Angeles opening.
Imagery and copy will showcase Rosa's two signature items: tableside guacamole and the pomegranate margarita. The restaurant is also leaning on the agency to cultivate local sports team, venue, and business partnerships throughout the city to deeply root Rosa within the Los Angeles restaurant scene.
"The launch campaign targets early adopters and reflects the essence of Rosa while giving us the opportunity to showcase not only the food but the location," added Mile 9 Chief Creative Officer Dan Dieffenbach. "Conceptually, when you find Rosa we want the result to be a memorable, authentic life experience not just a typical meal."
About Mile 9
Mile 9 is a full-service Los Angeles based advertising agency offering a broad range of services including, but not limited to, strategic and creative branding, print and broadcast advertising and digital, interactive and experiential marketing. Mile 9's diverse and impressive client roster includes leading local, regional and national clients across a wide range of industries. For more information, visit http://www.mile9agency.com.
###