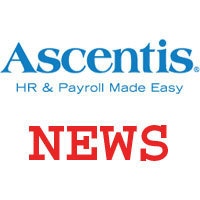 Having the new-found time to research and develop strategic projects is one of the most powerful and long-lasting contributions I can make as the HR manager.
Bellevue, WA (PRWEB) August 12, 2009 –-
Ascentis Corporation, a market leader in easy-to-use human resources software and online payroll services, announced that Illinois-based JULIE (Joint Utility Locating Information for Excavators) has invested in Ascentis HR to automate critical HR processes including open enrollment, employee benefits and data management, COBRA management and asset tracking.
JULIE HR Manager Laura Donahue had been struggling with manual HR processes and paper-based files for 2 ½ years. Before implementing Ascentis HR, she had to pull data from multiple sources, including the benefits management system, a time-clock system, and reports from payroll. She then had to manually integrate, edit and organize the information - and hope it was accurate. "It could take up to two days to do something as a simple as verify employment status," said Donahue. "And something as straightforward as a turnover report required manual payroll check counts."
JULIE needed a comprehensive HRIS solution that could manage many HR functions, including compensation, performance, COBRA, leave, monthly reconciliation, organizational charting, reporting, payroll integration and electronic connections to carriers. Because of limited IT resources, they also required a hosted solution. After demos and competitor product comparisons, Donahue concluded that Ascentis provided the most "bang for the buck."
With Ascentis HR, all critical JULIE HR information is now in one place, and easy to get to with just a mouse click or two. Reports that used to take hours are now produced in minutes. With Ascentis Employee Self-Service (ESS), Donahue can push out benefits information, as well as grocery and health club memberships. "Because it's so easy to configure Ascentis ESS, I'm able to add new information quickly and have it immediately available and distributed to all employees," said Donahue.
With the customizable capabilities of Ascentis HR, Donahue has added a screen that tracks company assets. "The finance department went crazy over this feature!" exclaimed Donahue. "I quickly created a tab I labeled 'asset management' and captured data about who is assigned what computer and the date of the assignment. I can add or change any field quickly. I no longer have to track this manually, and I simply run a report whenever it's requested."
As a seasonal employer, JULIE must make adjustments in staffing levels every year, and this requires time-consuming COBRA management and tracking. Ascentis HR informs Donahue when employees are no longer accessing COBRA and reinstates benefits accurately and automatically. "I can be much more strategic in my career now that we have automated our HR processes with Ascentis HR," Donahue said. "Having the new-found time to research and develop strategic projects is one of the most powerful and long-lasting contributions I can make as the HR manager."
About Ascentis
Ascentis Corporation provides medium-sized U.S. and Canadian-based businesses with fully integrated HRIS and online payroll services. Ascentis' easy-to-use solutions offer robust employee benefits management, electronic connections to carriers, employee self-service and real-time, online payroll processing. For more information about Ascentis HR (formerly HROffice®) and Ascentis Payroll (formerly EBS On Line's InstaPay), visit http://www.Ascentis.com.
Ascentis media contact: Dianna Sovine | dianna.sovine@ascentis.com | 800.229.2713 x170
This press release was distributed through eMediawire by Human Resources Marketer (HR Marketer: http://www.HRmarketer.com) on behalf of the company listed above.
###