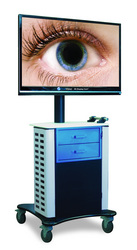 Surgeons in the United States need to be trained in this vital procedure. We were able to get the first 3D HD video ever of this procedure with TrueVision's help.
Santa Barbara, CA (PRWEB) August 13, 2009
August is Cataract Awareness Month. Cataracts reduce the vision of tens of millions of people around the world. It is especially crippling to the populations for developing countries where it is estimated that over 17.6 million people suffer from severe blindness due to treatable cataracts.
TrueVision Systems, the leader in 3D visualization for cataract surgery, has teamed with Mission Eyes Network and the Christian Ophthalmology Society to record for the first time a 3D HD video for teaching and training of the surgical technique called "Manual Small Incision Cataract Surgery" (MSICS).
Dr. Glenn Strauss, chief eye surgeon on the Mercy Ships and Dr. Tim Fincher, Ophthalmic surgeon of Dallas Texas, traveled to the Republic of Benin in West Africa equipped with a TrueVision system to record a 3D HD video of the MSICS procedure for training and educational purposes.
MSICS potentially offers an efficient and practical surgical solution to the growing problem of cataract blindness. Similar to the traditional extra capsular cataract technique, MSICS has been shown to be comparable to phacoemulsification in outcomes and for many developing countries has become the preferred technique, especially for advanced mature cataracts. It has shown to be very effective in allowing a high volume, low cost option in an environment of extreme need without expensive, high-tech instrumentation.
Not only are there not enough surgeons trained to fulfill the global need for the high-volume procedure but there are not enough resources to train surgeons, clinicians and technicians. This is where 3D surgical training helps.
"For cataract blindness in the developing world, manual, sutureless small-incision cataract surgery is the most cost effective method that must be increasingly adopted worldwide," stated David F. Chang, MD. "For scalable skills transfer, 3D video can play a major role in educating and training more surgeons."
"Surgeons in the United States need to be trained in this vital procedure. We were able to get the first 3D HD video ever of this procedure with TrueVision's help." said Glenn Strauss, MD, Senior VP of Healthcare for Mercy Ships.
Timothy Fincher, MD added, "We were able to debut this video at the Christian Ophthalmology Society meeting on July 30, 2009 in Hilton Head where it was a great success. I think 3D video is better than the wet lab for teaching this method and many other procedures."
A cataract is an opacity or cloudiness of the natural crystalline lens of the eye. Surgical removal of the lens may be necessary if visual loss becomes significant. The cloudy lens is replaced with an artificial lens, called an implant, at the time of surgery. In the United States, over three million (and growing) cataract surgeries are performed each year.
Modern cataract surgery is only 50 years old. During World War Two, while working with the Royal Air Force, Sir Harold Ridley noticed splinters of Perspex from the cockpit canopies of downed flyers, became lodged in the eyes of wounded pilots. He further noted these plastic splinters did not trigger inflammation. This accidental discovery led to the first artificial lenses implanted into the eye to correct cataracts.
About Mission Eyes Network
Mission Eyes Network is a meeting and networking site for any ophthalmologists or associated personnel interested or involved in global eye mission work. Over 25 mission agencies and their opportunities for surgeons are represented. It has taken a lead in educating physicians on techniques like the small incision cataract techniques with over 70 videos available online. Mission Eyes is becoming the online connecting ground and "facebook" of ophthalmology missions.
http://www.missionEyes.net
About Mercy Ships
Mercy Ships is a global charity that has operated hospital ships in developing nations since 1978. Mercy Ships brings hope and healing to the forgotten poor by mobilizing people and resources worldwide, and serving all people without regard for race, gender, or religion.
http://www.mercyships.org
About TrueVision
TrueVision Systems, Inc. is the leader in digital 3D visualization for microsurgery. TrueVision has developed and patented an intelligent, real-time 3D visualization platform for microsurgery. The company is developing a suite of specific 3D surgical guidance applications for the refractive-cataract surgical market that is expected to generate greater patient satisfaction.
http://www.truevisionsys.com
About Christian Ophthalmology Society
The Christian Ophthalmology Society has sponsored an annual meeting held in late July with an emphasis on missions and topics of interest to those involved in ophthalmology efforts to the underserved in developing countries.
http://www.cosw.org
CONTACTS:
Robert Reali Glenn Strauss, MD
805.963.9700 903-939-7697
rreali(at)truevisionsys(dot)com straussg(at)mercyships(dot)org
###