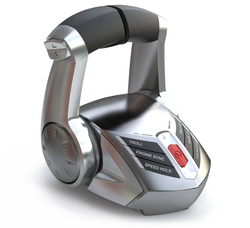 Sarasota, FL (PRWEB) August 13, 2009
Caudwell Marine has been awarded with "Most Innovative Product/Design of the Year" for their new Axis Drive Propulsion System at this year's South African Boating Awards. Their unique drive system is a world first in the industry. Caudwell tapped Florida based firm ROBRADY design for the styling direction of their external drive and gimbal cover. Caudwell and ROBRADY have a history of marine design and respective prototype projects, ranging from controllers, outdrives, graphics and ergonomic development work.
This is the third annual South African Boat Awards, which are hosted by the Cape Town Boatbuilding and Technology Initiative (CTBi). Veda Raubenheimer, executive director of CTBi, said the awards are designed to "innovation, exacting standards and a commitment to excellence within the boatbuilding and boat industry".
Caudwell Marine is a South African based company. Their holding company is based in Stoke-on-Trent in the UK. The Cape Town development and assembly team comprises qualified graduate design engineers and has recently commissioned a world class build team which is staffed with mechanics lead by the former head of the Williams Formula 1 build team. As part of its global marketing reach, the company has USA-based development partners.
ROBRADY design is a multi-disciplined product design and development studio that offers its multinational client base--including General Electric, Mercedes-Benz, Dell Computers, Parker Hannifin, AT&T, Merial and Volvo Penta--progressive industrial design, mechanical design and engineering, graphics /packaging / GUI / web and eCommerce design, market research, brand and retail development, complete rapid prototyping and production program management. ROBRADY design stresses comprehensive speed-to-market product solutions by collaborating to identify the greatest areas of opportunity and producing innovative designs to deliver profitable product solutions. ROBRADY delivers design, production and capital solutions to their clients in support of their research to reality philosophy.
###