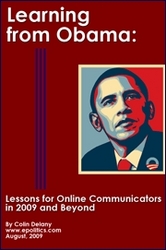 Learning From Obama: Lessons for Online Communicators in 2009 and Beyond
Washington, DC (PRWEB) August 12, 2009
A new e-book examines Barack Obama's online campaign for President in unprecedented detail, providing a definitive overview for journalists and political junkies while also giving political professionals a blueprint for future online campaigns. The 49-page "Learning From Obama: Lessons for Online Communicators in 2009 and Beyond" covers the Obama campaign's Internet outreach, mobilization and fundraising at length, with an emphasis on how his staff and supporters put online technology to work in the real world. The e-book is available in PDF format for free download at Epolitics.com, a website that focuses on the tools and tactics of online politics.
"Barack Obama's victory in 2008 told the world that the Internet's moment as a political tool has arrived," said Phil Noble, founder of PoliticsOnline.com and a longtime observer of Internet politics. "He and his campaign used technology to mobilize millions of people in a way we have never seen before, and this publication explains how they did it."
Based on a series of articles originally published on Epolitics.com, "Learning from Obama" is a rare glimpse into the mechanics of a successful political outreach machine, providing details on Barack Obama's online campaign only recently available. With individual chapters investigating crucial campaign elements in depth, the e-book covers strategy, campaign structure and technology, online outreach and recruiting, field organizing, voter and volunteer mobilization and online fundraising.
"Learning from Obama" cuts through the hype and places the online tools used by his campaign and its supporters squarely in context. Including detailed discussions of Internet video, social networking outreach, online advertising and the MyBarackObama activist toolkit, and with a final chapter that looks toward the future of Internet politics, "Learning from Obama" serves as both a history lesson and as a guide for Internet activists and political communicators moving forward.
"Learning from Obama" author Colin Delany launched Epolitics.com in 2006 and is a 13-year veteran of online politics. The "Learning from Obama" e-book relies on his and other coverage of the 2008 presidential campaign as well as information revealed by former Obama staffers only after election day. Delany previously wrote the "Online Politics 101" e-book, which has been downloaded from Epolitics.com more than 20,000 times. He will speak Thursday at the Netroots Nation conference in Pittsburgh.
###