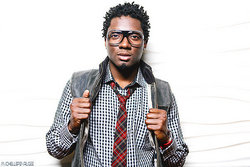 Portland, OR (PRWEB) August 12, 2009
Several of the world's greatest athletes in skateboarding, BMX, and freestyle motocross will be taking over Portland's Rose Quarter over the next few days to compete for the Dew Tour, the world's premier season-long action sports tour. These top athletes will all be competing for a shot at the prestigious Dew Cup and the coveted title of Dew Tour Athlete of the Year, but rising Senegal-born singer/producer ISSA has his eyes on another prize: a chance to rock the stage as the opening act for electro-hop duo LMFAO. After being selected as a BET Break-out Artist of the Month and then nominated as a finalist in LL Cool J's recent Boomdizzle All-Star Contest, ISSA has done it again and has been selected by Portland radio station Jammin 107.5 and the Dew Tour as one of eight top finalists competing for a chance to open for LMFAO. If chosen as the grand-prize winner, ISSA will perform for thousands of Portland music fans on Friday, August 14 at 9:00 p.m. at Portland's Rose Garden Fountain before LMFAO takes the stage as part of the Wendy's Invitational section of the 2009 Dew Tour.
Fans are encouraged to visit http://jammin1075.com/pages/pages/testlmfao.php, where they can vote for ISSA. The fans will choose final winner of the competition, which will be determined based on the finalist with the highest number of votes on Thursday, August 13 at 5:00 p.m. PDT.
Born in Dakar, Senegal, ISSA's musical style blends various genres, including R&B, pop and reggae. Since making his way to the U.S. a few years ago, his music career has been off to a promising start. In addition to playing in venues around the world, in August of 2008, ISSA was selected by BET as a Ya Heard? Break-out Artist of the Month for ''Used to Be the One,'' the first official single and video from his upcoming album ''The Rules of Attraction.'' In May 2009, his lucky streak continued when he was selected as a top finalist in LL Cool J's First Annual Boomdizzle All-Star Competition to discover the next great recording artist. Most recently, as part of his 2009 summer club tour, ISSA performed in Portland as the opening act for Cash Money Records recording artist Jay Sean, whose single ''Down,'' (featuring Lil Wayne) has made its mark on the Billboard charts. ISSA's fans were treated to a performance of his latest single ''Blowin' Up My Phone,'' which has been receiving positive buzz from various DJs and radio personalities.
For more information on ISSA, visit http://www.issamusic.com or http://www.myspace.com/issaworld.
Media Contact:
Ngozi Mba
MINC Media for ISSA
323.544.1450
info @ mincmedia.com
###